As you may recall, Amazon recently unveiled its new Cloud Drive service, which provides 5GB of free online storage. (Elsewhere I explained how you could bump your limit to 20GB for under a buck.) The only downside? To access it, you have to use Amazon's Web-based interface. It's not bad, but not nearly as convenient as, say, a local hard drive.
Enter Gladinet Cloud Desktop, which makes your Amazon Cloud Drive accessible from within Windows Explorer, just like, say, a flash drive. (Incidentally, it can do likewise with your Gmail, Picasa, SkyDrive, and other accounts.) It's free, it's easy, and it works.
After installing the program, just choose Amazon Cloud Drive from Gladinet's list of supported services. Then enter your username and password, and presto: the program "maps" your storage as a drive on your PC. From there you can copy files to and from it like you would any other drive (albeit a little more slowly–they are moving to the Internet and back, after all).
By the way, this won't work unless you've already uploaded at least one file to your Cloud Drive using conventional means (i.e. Amazon's Web interface). Also, if you want to do any heavy-duty file syncing, plan on investing in the $50 Pro version of Gladinet. (I think most users will be able to get by just fine with the free version.) The software is available in 32-bit and 64-bit versions for Windows XP, Vista, and 7.
Set Up an E-Mail Auto-Responder in Gmail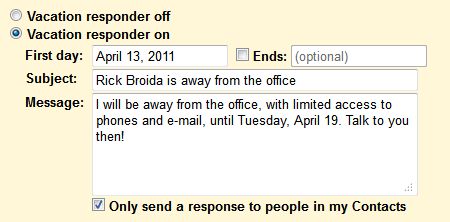 Taking a vacation? Planning to be away from your computer for more than a day or two? If you're a Gmail user, there's an easy way to make sure that friends, family members, co-workers, and others get an answer to their e-mails–even when you're traveling.
It's called a "vacation responder," and it sends an automated reply to anyone who e-mails you during a designated time.
It takes all of 60 seconds to set up, and it can even terminate automatically upon your return. Go to Gmail Help to learn how.
Add a Spell-Checker to Internet Explorer
Among the many reasons I'm partial to Firefox is that Mozilla's browser has long offered a built-in spell checker. (Not that I need it, of course–we payd riters learnt gud speling in skool.)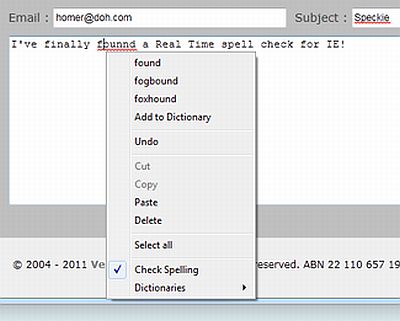 Internet Explorer, even in its latest release, doesn't do bad spellers any favors. Thankfully, there's Speckie, a free Internet Explorer add-on that provides real-time spell checking.
After installing Speckie–which, incidentally, is compatible with all versions of Windows and all versions of Internet Explorer (including 9)–it immediately starts working, underlining any misspelled word with a squiggly red line. To see suggested correct spellings, just right-click the word.
If English isn't your primary language, you'll be glad to know that Speckie comes with a whopping 24 dictionaries, with languages ranging from Croation to Vietnamese.
Bottom line: if you're an Internet Explorer user who needs a spell-checker for e-mail, Web forms, and other browser-based activities, Speckie gets the job done quickly and efficiently.
If you've got a hassle that needs solving, send it my way. I can't promise a response, but I'll definitely read every e-mail I get–and do my best to address at least some of them in the PCWorld Hassle-Free PC blog . My 411: hasslefree@pcworld.com . You can also sign up to have the Hassle-Free PC newsletter e-mailed to you each week .