RockMelt, the new browser on the block, has only been in public beta for a short time, but it's already poised to go mobile with an iPhone app. This comes as no real surprise, considering RockMelt prides itself on providing people with a "modern" way to browse the Web — and what is more modern than mobile applications?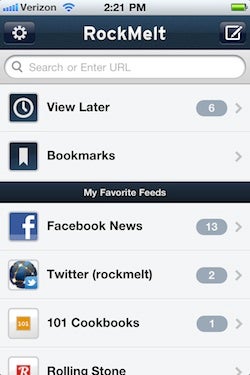 RockMelt went into public just a month ago, but it has been in and out of the spotlight since August 2009, and debuted in limited beta in November 2010. Based on Google's open source Chromium, RockMelt is similar to other browsers but with an extra feature: it has built-in social networking. In fact, to even use the browser you must sign in with your Facebook account (or create a Facebook account, if you don't have one).
RockMelt ties in with other social networks, and features "edges" — areas where you can place apps and websites as bookmarks. The App Edge is sort of a dynamic bookmarks toolbar — it keeps track of when the bookmarks placed there are updated, so you don't have to keep checking on your own.
According to VentureBeat, this is what RockMelt's app will be: not a boring browser, such as Safari or Opera, but a mobile version of RockMelt's App Edge. The RockMelt app will show a list of your favorite websites, determine which ones have been updated, and "jump in to read the latest news or blog post."
RockMelt's mobile browser, like RockMelt's App Edge, will also include Twitter and Facebook status updates, and will include the new browser feature of "saving" a page to read later. The mobile browser will also sync with the desktop browser, which is a nice touch.
RockMelt's chief executive, Eric Vishria, told VentureBeat that "when you're waiting in line for a cup of coffee, you don't want to whip out your phone and type in a long website address," and that you're "more likely to check the latest updates on Facebook or Twitter."

Now, I'm not exactly the biggest fan of RockMelt, mainly because it takes away the one thing that I really like about social networks: the time-wasting potential. I may be unique, but I use my iPhone most often to play games or browse the Web, not check Facebook or Twitter (I get enough of that when I'm sitting at my desk). But if I really do want to check Facebook or Twitter, I can always open the Facebook or Twitter app on my iPhone.
VentureBeat says that the Facebook and Twitter features of RockMelt's mobile app seem "particularly full-featured," and Vishria says that since he started testing RockMelt he's suddenly found that he doesn't need other apps anymore (and yeah, he's not biased at all).
Well, RockMelt is putting everything — social networks, RSS feed-like updates, Web browsing — into one app, and that's not really my thing. But if you'd like a conveniently efficient app, RockMelt should be in the app store by the end of this week (pending approval from Apple, of course).
An Android version of the app is apparently in the works, as well.
Follow Sarah on Twitter (@geeklil) or on Facebook