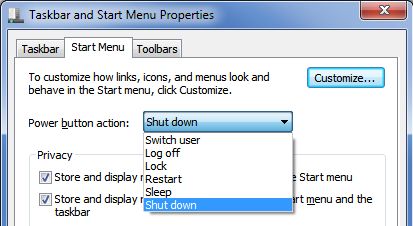 Everyone knows you're not supposed to use the power button to shut down your computer, right? You're supposed to shut down from within Windows, by clicking the Start button, then Shut Down.
Actually, that's old thinking. Although it's true you're not supposed to power down your PC without shutting Windows down first, there's no reason you can't use the power button to do so.
On many systems (laptops in particular), the power button is pre-configured to activate sleep mode. But it's a simple matter to change that in Windows 7; here's how:
1. Right-click the Start button, then choose Properties.
2. Click the pull-down menu next to "Power button action" and select Shut down. (Note the other choices here as well; there may be a different action you want to assign!)
3. Click OK and you're done!
Now, when you press your PC's power button, it will shut down Windows–and then turn off the power–just as though you'd performed that multi-click step I mentioned in the first paragraph. Nice little time-saver!