The T-Mobile G-Slate, available today, is the first of a coming class of "tweener" tablets. These smaller tablets all have an 8.9-inch display that straddles the realm between the more portable 7-inch models and the larger 9.7- and 10.1-inch tablets offered by the majority of contenders. I've been using a G-Slate for a while now, and have found much to like about its size.
Yes, I'd like it to be thinner. Given the direction of the tablet market, half-an-inch thick really feels like too much. Likewise, at 1.37 pounds, it's heavier than I'd have expected given its size. That's more than Apple's iPad 2, which checks in at 1.34 pounds (for the version with Wi-Fi + 3G).
Still, I found the dimensions very agreeable as a middle ground. Holding the tablet to read felt fairly balanced, and its smaller size made it less obtrusive while I was out and about with it. I found the screen had glare problems, though. It has a visible air gap between the glass and the display, and that didn't help the display handle light well.
The Android OS build is stock for Android 3.0; nothing special to report, beyond T-Mobile's preloaded apps. As with other Android 3.0 builds I've seen, this model suffers from the same image rendering issue-which causes images to look blurry– I've observed in the Gallery app on Android 3.0 tablets.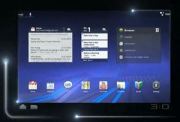 Aside from its screen size, this model distinguishes itself from the rest of the pack thanks to its twin rear-facing cameras at back. The cameras make it possible to easily do 3D video capture and, while this may sound gimmicky, it actually can be fun. The tablet is compact enough to hold up as a video camera, and the video captured looked pleasing on the display, when viewed with the included anaglyph 3D glasses. Just don't try using these glasses if you already wear glasses-they won't fit so well.
My full review of the G-Slate is coming soon. In the meantime, let me know in the comments what you think about having a 3D camcorder built into your tablet.