The Apple iPad 2 is no doubt the best-selling tablet–but does that mean it's the best tablet?
To find out, I spent a few weeks testing some of the iPad's leading competitors. I learned that in a surprising number of areas, including navigation, e-mail handling, and Web browsing, the other tablets actually beat out the iPad.
For this comparison, I set aside raw hardware specs. Processor speed, RAM, and ports certainly matter, but a tablet can have great specs and still be awkward and unpleasant to use. What makes or breaks a tablet is its operating system, which determines whether answering e-mail, watching video, and surfing the Web will be a pleasure or a frustration.
Several tablet operating systems are poised to battle it out. While most tablet OSs come on only one brand of tablet each, Google's Android 3.0 is the choice of a growing number of manufacturers, some of which add their own custom interface as HTC does with Sense UI and Samsung does with TouchWiz.
For this article I tried the iOS 4.3-based Apple iPad 2, the BlackBerry Tablet OS-based RIM BlackBerry PlayBook, and the Android 3.0-based Acer Iconia Tab A500, Motorola Xoom, and T-Mobile G-Slate. I didn't have a final version of the WebOS-based HP TouchPad (due out this summer) for unlimited testing, but I was able to spend some time with a preproduction unit.
Home Screen
Advantage: BlackBerry Tablet OS, Android 3.0
You'll go to your tablet's home screen again and again, so it's critical for the screen to look good and work efficiently.
The elegantly simple BlackBerry Tablet OS home screen smoothly transitions as you swipe among open apps in the navigator pane that appears in the upper two-thirds of the screen. RIM has built gesture navigation into the bezel, so a simple swipe up reveals context-sensitive menus, while a swipe down reveals the full app screen. The navigator screen and gesture-swipe combo makes moving among open, multitasking apps particularly intuitive. BlackBerry's home screen also deserves props for allowing one-tap access to Bluetooth, Wi-Fi, battery, and general-settings info. The BlackBerry's notifications are subtle: Messages appear in the upper-right corner to tell you that the battery is running low, for instance.
Android 3.0's home screens (you get six of them) are very different from the BlackBerry offering, but perfect for people who want detailed control over how their tools are organized and presented. The new home-screen design is cleaner than that of previous Android versions, and it makes moving app icons and widgets across the six screens easy. Widgets are a compelling addition to Android, too: Google and app developers can use them to put regularly refreshed information–such as your calendar, your most recent e-mail messages, or the latest weather–directly on your screen. Tap the widget, and you'll proceed directly to the related app itself. These shortcuts are finger friendly, but the frequently winking updates could become more clutter than convenience.
The three core Android 3.0 navigation buttons (back, home, and recently accessed apps) appear at the lower left of the screen, while the status bar is situated at the lower right. Both sets of buttons are built into the display, and will rotate accordingly as you turn the tablet from horizontal to vertical.
Oddly, the back button doesn't behave as you might expect: Nowhere does Android note that using the back button exits an app entirely, but that's the action it performs. The button for recently accessed apps, often erroneously referred to as the multitasking button, brings up thumbnails of the five apps you've used most recently; but even though this is intended as a shortcut, it can make your finger travel more, not less, to return to an app.
I especially like the redesigned notifications, which you reveal with the tap of a finger. The Android status bar is where you'll see notifications pop up, and where you'll get easier access to oft-used settings such as airplane mode and Wi-Fi.
The Apple iOS home screen is way behind the competition in many respects. It's staid and consistent, but not at all dynamic. The bottom area has room for a maximum of six docked apps, while the rest of your apps spread across one of the multiple (up to 11) home screens. App icons are static, and unlike Android 3.0, iOS doesn't allow for widgets. iOS has no set location for notifications, either; instead, it passes along alerts in intrusive pop-up boxes. Organizing apps on different screens or into folders is tiresome, whether you're trying to do so on the iPad itself or in the iTunes desktop software. And unlike other mobile OSs, iOS buries oft-used settings under the layers of the settings menu; you'll find no shortcut here.
Like HP's WebOS phones, the TouchPad has a home screen that uses what HP calls "activity cards." Each card represents an application, media file, e-mail message, or browser window. Cards can sit individually or in a stack in the center of the home screen, and you can flick left to right to scroll through them. I like the flexibility of breaking out activity cards, and the ability to stack related cards together, even if the sources are different apps. In addition, I like the unobtrusive notifications in the upper-right corner of the screen (tap the icon, and you can flick through your alerts right there); it also has one of the best approaches to accessing settings that I've seen.
Mail
Advantage: Android 3.0
Both iOS and Android 3.0 have good mail apps, but Android gets the nod, by a hair. Android's versatile, triple-pane approach to e-mail is easy to navigate. (If you don't use Gmail, though, you'll have to work with the generic e-mail app, which doesn't let you search your messages. At least you can easily organize them into folders.) More important, the behavior of Android's mail screens isn't dramatically different in the vertical versus the horizontal position.
Although Apple's Mail app looks good and is easy to navigate, it annoyingly behaves in a different way based on whether you're holding the tablet in landscape or portrait mode: In landscape, it shows you two panes, while in portrait it has a pop-up pane for moving through messages and inboxes. Compared with Android, iOS puts many more limitations on what you can download, and what you can do with a downloaded file. It will save JPEGs, PDFs, and Microsoft Office documents, but you can open those files only in specific apps that are written to hook into the Mail app (for example, Pages, iBooks, or Evernote). And you can't attach a file directly to a message; to send a photo, for instance, you initiate the message from the image in the Photo Roll, not from the e-mail app.
BlackBerry Tablet OS stumbles due to the fact that it lacks an integrated e-mail app. The BlackBerry Bridge feature lets you pair a BlackBerry phone with the tablet, so you can view your phone's BlackBerry Messenger e-mail, contacts, and chats on the PlayBook's larger screen. When you decouple the tablet and phone, the Messenger data disappears from the PlayBook–a feature that might frustrate consumers but should appeal to corporate IT honchos who want to limit the spread of sensitive information.
The PlayBook ships with icons for AOL Mail, Gmail, Hotmail, and Yahoo Mail (along with Facebook and Twitter), but these icons are misleading since they don't bring you to actual apps–they're merely shortcuts to those services in the Web browser. The browser interface for the mail services is a poor substitute for a mobile-optimized app. For example, I couldn't add an attachment in Gmail, though I could do so–with some graphics issues–in AOL Mail. I could save attachments from Web-based e-mail, but finding those documents again was difficult, and sometimes they didn't open properly.
WebOS's e-mail is similar to Android 3.0's take in that it has a multipane organization. Regrettably, individual e-mail messages can't be represented on their own activity cards unless you press, say, the reply or forward button; this action will make an e-mail message stand on its own, so you can stack it together with a Web page to create a hub of related content. You have the option of saving one or all attachments in an e-mail, or opening an attachment; however, I didn't see enough of the HP TouchPad's other apps to determine how attachments interact with them.
Web
Advantage: Android 3.0
The clear advantage in Web browsing goes to Android 3.0 tablets. The native Android browser has a tabbed interface that makes navigating a multitude of Web pages remarkably easy. And content on those tabs updates continuously as long as you're just shifting among tabs, not apps. The visual bookmark design–with thumbnails of your pages–helps you quickly access favorite items. I also appreciate the support for Adobe Flash Player 10.2–it means that users don't miss out on the large portion of the Web that relies on Flash. Another benefit of Android: You can download alternative Web browsers, such as Mozilla's Firefox 4 for Mobile.
In comparison, iOS 4.3 and BlackBerry Tablet OS feel stuck in the dark ages of Web browsing. Since their respective native browsers access only one Web page at a time, you must exit one page before you browse to another. Switching among pages is much faster and smoother in Android's tabbed design than it is on either iOS 4.3 or BlackBerry Tablet OS. And neither of those OSs updates a page dynamically.
In addition, iOS's mobile Safari browser limits the number of windows you can have open at a time, and displays bookmarks as only a text list. And as with e-mail, iOS restricts how the Web browser handles downloads. You don't download files, per se; instead, if a supported file (for example, a Word doc or a PDF) is on a page, that file will open in a separate browser window. From there, you'll have the option to open the file in apps that have been hooked into the Web browser, such as Apple's iWork apps, Dropbox, iBooks, or Photo Roll. But you can't download .zip files, video files, or any file format that iOS does not support.
I like the fact that the BlackBerry Tablet OS browser supports Flash, but I'm disappointed with its uneven behavior. It lets you save a JPEG to a Downloads folder that's accessible via the browser; in my hands-on tests, however, I couldn't open the JPEGs I downloaded on the device. I had similar problems with some Word docs and PDFs I downloaded, too, though other files saved and opened just fine in the PlayBook's preinstalled apps (Adobe Reader for PDFs, and the Microsoft Office-compatible Word To Go, Sheet To Go, and Slideshow To Go). Stranger still, tapping on a file didn't consistently bring up the action to save it–though when I did get the chance to save a file, the PlayBook also allowed me to rename it on the spot. Another frustration: The Download folder didn't consistently retain a history of the downloaded files; without that, or a general file browser that would let me rummage on the tablet myself, those files seemed lost to the ether.
The WebOS browser on the TouchPad works much as it does on WebOS cell phones. Each browser window behaves as its own activity card, and you can stack those cards together or view them individually.
Multimedia
Advantage: None
In addition to examining how the tablets display images and video and play music, I looked at how they allow users to import music and video, as well as to purchase it.
I didn't pick an outright winner simply because no one mobile OS gets enough right in this respect. Which mobile OS you deem best for media management will depend in part on your shopping habits and on how you plan to use your tablet.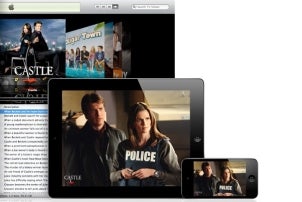 The iPad's tight integration with the iTunes store makes buying new audio and video on Apple's tablet exceedingly easy. Love it or hate it, iTunes is the dominant marketplace for digital media, and the iPad benefits greatly. iTunes desktop software remains fairly good at organizing and tracking your media, as well as at syncing that media onto your tablet. However, although you can add your own videos and music–as well as photos–to the iTunes library on your PC, in order to play that media on your iPad you have to sync the tablet with your PC's iTunes library. You can't just do a quick drag-and-drop file transfer, as you can with Android 3.0. Nonetheless, if you already have an iPod or iPhone, and you shop in iTunes, the iPad will fit in perfectly with how you buy music and video.
At the time of my testing, Google had no comparable music or video store for its Android OS (though persistent rumors indicate that it might soon launch Google Music, reportedly a digital storefront). With an Android tablet, you can shop at a variety of media stores–for example, the Amazon MP3 app for Android lets you buy music at the Amazon MP3 store and play it with the Amazon Cloud Player, and Samsung offers its Media Hub for music and video downloads on its Android tablets. It's great to have choices, but if you use different stores you could end up with music that you can't play together in the same music library (Media Hub content plays only inside that app, for example).
Beyond the shopping, Android 3.0 is capable of solid media management–most of the time. Syncing via Windows Media Player is simple, but if you prefer to drag and drop music files, that works just fine, too. The same goes for video files, though Android 3.0 surprisingly lacks support for WMV files, among others. Most of the Android 3.0 tablets I've seen have a widescreen aspect ratio, which is perfect for HD movies. Plus, you get Flash support for online video (note, however, that Hulu generally blocks access from Android devices). Google's redesigned music player is appealing in its aesthetics and usability.
Unfortunately, since Android 3.0 lacks a dedicated video player, your videos are meshed into the Gallery with your photos. And the version of Android 3.0 that ships on all of the tablets I tried has a major imaging bug: Android 3.0's Gallery app doesn't render images clearly–images look unsharp, and fuzzy. A Google rep told me that the company was aware of the problem, but offered no timeline for a fix. Sure, I like how the Gallery lets me view image EXIF data, but that information doesn't do me much good if I can't tell whether the image is actually sharp.
BlackBerry Tablet OS's media handling is a mixed bag. It does some things extraordinarily well: For example, the OS can power two different graphics activities simultaneously, so you can output 1080p video via HDMI to a TV and still surf the Web on the PlayBook. In my hands-on tests, Flash video played fine inside a Web page, though it occasionally had sizing issues that made it difficult for the in-browser Flash player on YouTube (and Hulu.com video) to resize to the PlayBook's screen.
You can buy music on a PlayBook through 7digital, the same DRM-free store you can use via a BlackBerry phone. RIM plans to offer a video store, but it isn't ready just yet.
I appreciated how smoothly the BlackBerry Tablet OS let me exit and resume YouTube and other videos while navigating among open apps; when I popped back to a video, it resumed playback instantly, with no stutters or hesitation. This OS had no issue with playing WMV, AVI, or even .mov files I shot on my iPhone. Images looked great–crisp and sharp–but the Pictures app is fairly plain, with few options for setting up slideshows or navigating shots, and no additional options such as viewing EXIF data and other image properties. I did have difficulty getting vertical images to rotate from the horizontal (though the same images do so just fine on Android 3.0); RIM says that function will be coming in a future update.
RIM makes getting content onto the PlayBook fairly easy. You have to install an app on your desktop, and then use it to transfer files to the device wirelessly (it acts as a wireless hard drive) or use the app's guided sync and transfer options. Impressively, it grabbed music from my iTunes library, skipping over some songs only because those tracks were protected by digital rights management. The music player built in to BlackBerry Tablet OS looks fine and operates smoothly, though its layout took a little getting used to and building playlists on the fly wasn't as easy as I'd like.
Apps
Advantage: IOS
Since no tablet does everything you could want with the OS alone, you must have apps. Apple's iOS enjoys a definite advantage in this regard. At last count, more than 64,000 of the 350,000 apps in the App Store were optimized for the iPad. No matter what you want to do on your iPad, you'll likely find something that does it in the Apple App Store.
In contrast, only a hundred-plus Android apps are optimized for use on Android 3.0 and the larger screens of tablets. More apps are on their way–though it's not certain how much of the current Android app boom will be devoted to tablets. And I've had mixed experiences with apps that aren't intended for Android 3.0: Sometimes they work fine, sometimes they function but look a bit off, and sometimes they crash.
RIM says it launched BlackBerry Tablet OS with 3000 apps in its AppWorld store. Unfortunately none of the apps I downloaded particularly impressed me–some appeared to be simple, almost DOS-like in their design. RIM says the PlayBook will be able to run Android 2.x apps, but not 3.0 apps, sold via its AppWorld store; but the Android Player emulator that will enable the function, as well as the emulator that will run BlackBerry phone apps, won't be available until later this summer. At launch, the PlayBook lacks compelling apps to complement its (mostly) compelling hardware and mobile OS.
Best Overall Impression
I find a lot to like among all the contending tablet OSs, and wish I could cobble those appealing elements together into a single, awesome mobile OS.
But barring that, I believe that Apple's iOS remains the best tablet operating system overall. That may be a surprise to you, given that I prefer other OSs for many of the individual functions I looked at. On the whole, however, iOS delivers the best-formed environment for both productivity and entertainment.
Once Google addresses Android 3.0's drawbacks and more developers release tablet-optimized apps, Android 3.0 will be in a dogfight with iOS. But by then, who knows what Apple might introduce for iOS 5?
Meanwhile, businesspeople who already depend on BlackBerry phones should value the way those handsets will interact with the PlayBook, as well as the built-in security of the platform–and for that audience, such capabilities will outweigh many of the PlayBook's other weaknesses.
Hardware Options
Galaxy Tab: Samsung's Galaxy Tab 10.1 Android 3.0 slate is 0.2mm thinner than the iPad 2. This 10.1-inch model, due in June, costs $499 for a 16GB Wi-Fi unit (an 8.9-inch one is coming too). I like its thinness–and many of Samsung's interface tweaks.
PlayBook: RIM's BlackBerry PlayBook gets a lot right, but it also feels like a work in progress. For now it's constrained by a limited app selection, software glitches, and choices in functionality or design that might reduce the tablet's popularity among consumers.
TouchPad: HP is betting its tablet future on WebOS, which it acquired from Palm last year. The TouchPad has a 9.7-inch display and supports HP Touchstone technology for wireless transfers between WebOS handsets and the tablet.
G-Slate: Also called the LG Optimus Pad, the 8.9-inch, Android 3.0-based G-Slate tablet for T-Mobile stands out thanks to its two rear cameras. The cameras enable 3D video capture; you can view the videos through the included anaglyph video glasses.
Flyer: HTC's upcoming tablets–the Flyer for Best Buy and the EVO View 4G for Sprint–were unveiled with Android 2.3, but Sprint has hinted that its slate will carry Android 3.0. Support for HTC's Scribe pen lets you capture notations digitally.
Iconia Tab: In early demos, Acer's Iconia Tab A500 Android 3.0 tablet seemed promising. The Wi-Fi-only tablet has an aluminum build and carries familiar-sounding specs, including Adobe Flash 10.2 support and a 1280-by-800-pixel display with a 16:10 aspect ratio.
What About Windows?
We've seen little movement when it comes to putting Windows on a tablet–and it may not happen in earnest until we get Windows 8. For now, Dell, Fujitsu, and MSI have said that they would aim Windows 7 tablets at vertical markets such as the education, finance, manufacturing, and medical fields. So far only Asus, Azpen, and ViewSonic have suggested that their Windows tablets are for a wider audience.
Neither the default Windows interface nor the applications are finger friendly, and battery life is an issue. But the appeal of Windows on a tablet remains, as much for its novelty as for its interoperability with the software on a laptop or desktop.
The longer Microsoft waits on providing tablet optimization, the more ground it will cede as tablets steal the thunder from traditional PCs and consumers come to rely on mobile OSs instead of on Windows.