Though you can use your tech to fix all kinds of home issues, owning a lot of gear can create more problems—especially when it comes to the cables that connect your devices.
Fortunately, you have a number of ways to tidy up the jumble of wires behind your desk that don't involve buying overpriced "cable organizers" (or switching to an all-wireless setup). Try the following low-tech solutions to your high-tech problem.
Reuse your electronics' twist ties: Instead of buying pretty, color-coded zip ties to bind your loose cables together, reuse the twist ties that come with, um, every single electronic device you've ever bought. Gather a number of cables together (keep it a small number—three or four works perfectly) and wrap them with the twist ties.
Hang cables from binder clips: This is a neat little hack from David Bakker at Lifehacking.nl. Take a bunch of binder clips that are made for holding sheaves of paper, clip them on the back or side of your desk, and then thread your cables through them.
If your cables have plugs that are too large to thread through the silver part of the clip, you can remove the silver part—just squeeze the handle together until the wire pops out—and then reposition it once you've pushed the cable through.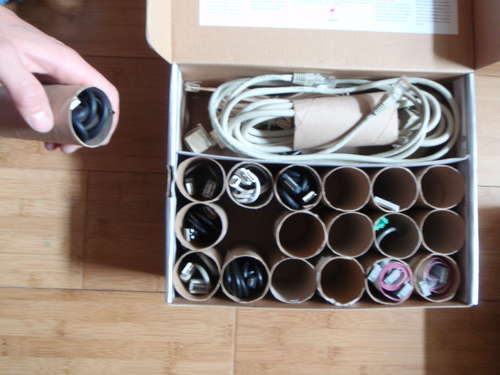 Use old toilet paper rolls to organize your unused cables: The cables behind your desk aren't the only problem—you probably have a ton of cables that you aren't currently using (but that you still need access to on occasion). Instead of throwing them into the bottom of a filing cabinet drawer, try wrapping and organizing them with this TP roll organizer box from Instructables.com.
All you need are a bunch of old toilet paper rolls and a shoebox. Fold up your cables and stick them through the toilet paper rolls, and then organize the rolls in the box in a honeycomb arrangement.