You have to take only a couple of business trips or vacations with a 6-pound laptop in tow before you start thinking about switching to a PC with a little less meat on its bones.
Although 14- and 15-inch all-purpose laptops are abundant and often inexpensive, just throw one into your backpack or briefcase and lug it around for a few days–your shoulders will soon beg for mercy. These days, fortunately, you can find plenty of laptops on the market that are slimmer, lighter, and more powerful than almost anything that you could have bought just a few years ago.
What qualifies as a "lightweight laptop"? We drew the line at 4 pounds. There's a marked difference in design, features, and feel between laptops under that weight and their heavier friends. It may not seem like much, but a pound or two can make a big difference. Consider the heft of a pint of water: 1 pound. The difference between the lightweight laptops featured here and your run-of-the-mill 5.5-pounder is the equivalent of two (or two-and-a-half) extra pints of water in your laptop bag. It gets tiresome pretty fast.
Of course, laptops that are more Olive Oyl than Bluto come with a few compromises. Giving up weight can mean giving up performance, battery life, and certain other capabilities. Most laptops that weigh less than 4 pounds lack optical drives, so forget about burning DVDs or watching Blu-ray movies without an external USB drive.
They also tend to be thinner, leaving less room for larger, longer-running batteries, and for heat sinks and fans to dissipate the heat from high-power processors, which in turn means limited processing power. Nor is there room for a high-power discrete graphics card, so gaming enthusiasts are out of luck. Finally, expect to pay a little more for a thin-and-light laptop, relative to the performance received. Sure, you can find cheap laptops under 4 pounds, but at any given price, you'll get more performance, storage space, and features if you're willing to deal with some extra weight.
Truly light laptops rarely have a screen larger than 13 inches, but they otherwise come in a variety of styles, sizes, and prices.
(For our comparison chart of the ultraportables discussed in this article–and our "find-it" to each one's full review–please click on the thumbnail at left.)
If superslim is your preference, look no further than the Samsung Series 9, the latest PC to seriously challenge Apple's MacBook Air for slim-computing dominance. Business users especially interested in usability will want to focus on the ThinkPad X220, which maintains Lenovo's excellent, long-running standards for keyboard quality and management features.
And for the more style-minded among us, Lenovo has a sleeker unit in the IdeaPad U260. Meanwhile, Sony's Z-Series VPC-Z137GX/S is a pricey alternative aimed at business executives who want it all, including a decent discrete graphics chip.
If you're on a tighter budget, the tiny size of Lenovo's ThinkPad X120e netbook should fit the bill. It's powered by AMD's Fusion E-series processor, giving it performance that's a step above the typical Intel Atom-powered netbook.
Let's look at these ultralight laptops in alphabetical order.
Lenovo's IdeaPad U260: Unexpected Style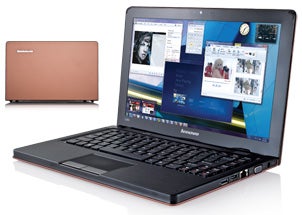 Despite generations of sober-looking, utilitarian forebears and a name that suggests a bad World War II submarine movie, Lenovo's $1199 IdeaPad U260 goes where the company's laptops never went before–into the queue for style and design awards.
And the U260 gives Apple and Sony something to think about. When closed and viewed from the back, with its dark copper shell (Lenovo calls the color "mocha brown") covering the black main body, this 0.75-inch-thick ultraportable laptop resembles an extravagantly bound book- or pad-holder.
When opened, the IdeaPad U260 presents you with an all-black, minimally populated keyboard deck consisting of a smallish power button, an ambient light sensor that adjusts display brightness automatically, a tiny OneKey system recovery button (accessible only if you use a pointy object), the best Chiclet-style keyboard I've ever typed on, and an equally elegant touchpad with smooth-operating buttons. In a break with tradition, Lenovo does not include an eraserhead or nubbin pointing device.
Style aside, the U260 earned mixed results in PCWorld Labs tests. Our review unit had an Intel Core i5 470UM CPU, 4GB of DDR3 system memory, and a 12.5-inch color display with 1388 by 766 resolution. But the 320GB hard drive spins at just 5400 rpm, which undoubtedly helped hold the U260's WorldBench 6 score to a pedestrian 75. (An update to one of Intel's Sandy Bridge CPUs would certainly boost the laptop's performance.)
Gaming frame rates on our test machine were in the teens (or worse), owing to Intel's integrated graphics. On the other hand, every video we tried played smoothly, even at 1080p. Audio quality is so-so, and rather quiet through the speaker.
Your connection options consist of two USB 2.0 ports, VGA and HDMI video outputs, an AC jack, a gigabit ethernet port, and a single combination microphone/headphone jack. The laptop has no internal optical drive, and the wireless is 802.11n.
Lenovo includes 64-bit Windows 7 Home Premium as the operating system, but no productivity software. You also get a VeriFace facial recognition utility that's quite cool, as well as a shock sensor and the CyberLink Webcam utility.
The U260 is an average performer overall, but its top-of-the-line ergonomics more than compensates for that. My main disappointment is the lack of an option for a faster hard disk or a solid-state drive, to improve performance.
–Jon L. Jacobi
Lenovo's ThinkPad x120e: A Superfast Netbook for Business
Lenovo calls its ThinkPad X120e an ultraportable-and its AMD Fusion CPU certainly endows the laptop with much more muscle than past netbooks have exhibited. But it's nowhere near as fast as the average Intel Core CPU-based ultraportable. Given the choice to characterize the X120e as an underpowered ultraportable or as a wonderful netbook, I'm going with the latter.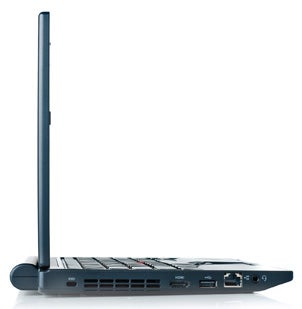 Lenovo has done a magnificent job of giving the keyboard a full-size feel, but the 1366-by-768-resolution, 11.6-inch display suffers compared with some other models' larger screens. Lenovo, however, is king of the keyboard, and the X120e has the best netbook keyboard ever–nothing else comes close. The feel is magnificent. The touchpad is comfortable and perfectly responsive, and the company includes a TrackPoint eraserhead cursor control.
The ThinkPad X120e comes in various configurations, starting at $399 for an E-250 Fusion CPU, 2GB of memory, and a 250GB, 5400-rpm hard drive. Our X120e test system came equipped with the slightly faster E-350 CPU, 4GB of memory, and a 300GB, 7200-rpm hard drive. Those burlier components carried the X120e to a WorldBench 6 score of 57–far higher than traditional netbooks receive, but lower than a typical, pricier ultraportable. (Our review unit would cost $650–pretty steep for a netbook.)
Video performance ranges from excellent to mediocre. With co­­decs that its Radeon HD 6310 graphics hardware supports, it plays 1080p video smoothly. But with codecs handled by the CPU alone, it's limited to 720p, not always smoothly. Gaming frame rates approached playable, falling just shy of 30 frames per second in Unreal Tournament at 800 by 600 at medium resolution.
The X120e carries the netbook-standard three USB 2.0 ports, and both VGA and HDMI video outputs. Its ethernet capability supports gigabit speeds, you get Bluetooth on board, and you can choose between b/g/n and a/b/g/n wireless.
A tad larger than the average netbook at 11.1 inches wide by 7.45 inches deep (add about 0.75 inch for a six-cell battery) and 1.16 inches thick, the X120e weighs 2.93 pounds (with a three-cell battery) or 3.31 pounds (with a six-cell pack). A six-cell battery powered our test unit for nearly 5.5 hours–impressively long.
Our test system came with Windows 7 Professional, but you may choose Home Premium 32-bit or 64-bit, instead. Office 2010 Starter is on board; Norton Internet Security is an option.
The X120e is not an ultraportable: Its screen is too small, and its performance too slow. But it's the best netbook going. One typing session will convince you that this model is more than worth its $450 starting price.
–Jon L. Jacobi
Lenovo ThinkPad X220: A Best-of-Breed Ultraportable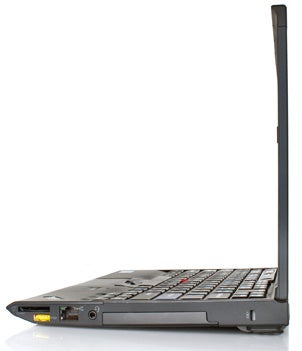 Lenovo's ThinkPad X220, which replaces the X201 model, is sure to be a hit with ThinkPad fans–and most everyone else. It is fast and light, has a great 12.5-inch display, and continues the company's enviable tradition of superb input ergonomics, offering an innovative buttonless touchpad and a long-stroke keyboard. It also provides excellent battery life–up to a whopping 23 hours with a bottom-mounted battery slice. The downside? Not much–mainly a boxy, businesslike look.
Exact prices for all of the ThinkPad X220's configurations are unavailable at this time: The starting price should be $979, going up with better CPUs, solid-state drives instead of standard hard-disk drives, and more RAM. CPUs range from an Intel Core i3 to a Core i7, the unit accepts up to 8GB of memory, and storage op­­tions start with a 160GB HDD and end with a 160GB SSD.
Our $1299 test model–with its 2.5GHz Core i5-2520M processor, 4GB of DDR3 system memory, and 7200-rpm, 320GB hard drive–turned in an outstanding WorldBench 6 score of 122. And its integrated Intel HD Graphics 3000 GPU managed playable frame rates in some lighter gaming tests; 1080p movies, even the high-bit-rate variety, play smoothly.
Some of the keys, such as the extra-large <Esc> and <Del> keys above the main alphabetical keys, are a tad odd. These keys don't hinder your typing, however; they help it. The long-throw feel of the keyboard is excellent. The touchpad has a buttonless design-you press down on the left or right front edge to click. Two normal buttons sit above the touchpad, and you also get Lenovo's TrackPoint eraserhead pointing device.
The X220's battery life is outstanding. Our test machine, with its six-cell battery, ran for a cool 7 hours, 15 minutes. You can opt for a three-cell or nine-cell main battery, for less weight or a longer run time, and add a bottom-mounted $179 battery slice.
The ports and connectivity on the X220 are top-notch. The system has three USB ports, one of which is powered (for charging cell phones and the like) even when the laptop isn't turned on. With the i7 CPU, one port can optionally be USB 3.0. You'll also find an ExpressCard slot, an SD Card slot, a Wi-Fi switch, a VGA port, and a gigabit ethernet port. A dock is available with a multi­format burner, Blue­tooth is on board, and the Wi-Fi is dual-band 802.11n (2.4GHz and 5GHz). Our test laptop arrived with IBM's biometric finger-swipe sensor to facilitate security.
But be wary of the many "value added" applications and un­­necessary background processes. The Windows 7 Professional operating system has just about every software feature you need for a laptop, yet on our machine a quick glance at the Windows Task Manager revealed nearly 90 processes at work and almost 30 percent memory usage–without a single user application running. Trial versions of Norton Internet Security and Microsoft Office 2010 Starter come bundled.
ThinkPad users won't find anything mind-blowingly different here, but the improvements are noticeable, and all of them en­­hance usability. The Lenovo ThinkPad X220 is in many ways the best thing going in an ultraportable.
–Jon L. Jacobi
Samsung Series 9: A Real MacBook Air Competitor
At less than 3 pounds and 0.7 inch thick, Samsung's Series 9 laptop challenges Apple's MacBook Air for the ultraslim limelight. At a starting price of $1649 (compared with Apple's $1299), the Series 9 is costlier than the 13-inch MacBook Air, but it offers generally superior hardware and is eminently usable.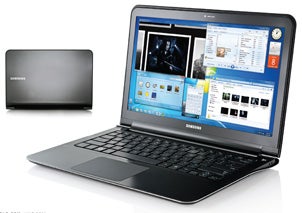 The biggest advantage that Samsung's slim wonder has over the Air is in the processor. Apple is still using a two-generations-old Core 2 Duo, while the Series 9 comes equipped with a new "Sandy Bridge" Core i5 2537M. So even though the default clock speed of the Air is 1.86GHz and the ultra-low-voltage CPU in the Series 9 is only 1.4GHz, the Series 9 is actually a bit faster: It earned a WorldBench 6 score of 103, while the 13-inch MacBook Air scored 90. Also, Samsung includes 4GB of RAM.
The Series 9's battery life is quite decent for a laptop this thin: 5.5 hours in our battery run-down tests, which is on a par with many thicker, heavier ultraportables, and about half an hour longer than the 13-inch MacBook Air. The Series 9 comes standard with a 128GB solid-state drive, as the Air does, and this enables the system to feel responsive and quick, to boot up fast, and to resume Windows in less than 3 seconds when you open the lid.
The Series 9 falls a bit short in 3D gaming, relying on Intel's HD Graphics 3000 to push pixels; the GPU isn't powerful enough to run the latest games without severely compromising visual quality. But the integrated graphics does a great job with video decoding, so even high-def material plays smoothly.
After a bit of tweaking, our Series 9 was a joy to use. Samsung says that its handsome brushed-metal exterior is made from Duralumin, an aluminum alloy first made for rigid airships and planes. The system feels stiff and sturdy, with very little flex. The 13.3-inch LED backlit screen is one of the laptop's best features. The 1366 by 768 resolution is appropriate for its size, but the vibrant colors, excellent viewing angles, bright backlight, and matte antiglare finish really make it stand out.
The full-size keyboard is easy to type on–the keys have a distinct "clicky" feel and are all sized and spaced to enable touch-typists to achieve their full speed easily and without errors. The touchpad is big, but it's just too sensitive–and all its multifinger gesture controls can't make up for that excessive touchiness.
As for connectivity, Samsung provides a USB 2.0 port on each side, one of which is a "sleep-and-charge" port to power devices while the laptop is asleep. You also get a Mini HDMI output port, a combination headphone/mic jack, and a microSD card slot (a full SD card slot looks as though it could have fit, and would have been much more useful). In lieu of the too-big RJ45 jack necessary for an ethernet plug, Samsung has a special port on the left side for plugging in an included, short port-to-ethernet dongle.
Preinstalled software is relatively minimal, thankfully. You get trial versions of Norton Internet Security and Online Backup, a few casual games from WildTangent, plus Skype and CyberLink YouCam. Samsung includes its own emergency system restore software as well as a simple Control Center that's a one-stop shop to adjust brightness, join Wi-Fi networks, enable or disable Bluetooth, and so on–and that's about it.
Samsung is clearly trying to make a statement with the Series 9, but is it worth its $1600-and-up asking price? For the average person, no. You can get considerably better performance for the price, or the same performance in a less impressive body for much less money. But match it against the MacBook Air, and–though it costs $350 more–you'll get a faster processor, a matte screen, an ethernet jack, and twice the RAM.
–Jason Cross
Sony Vaio Z-Series VPC-Z137GX/S: Light and Mighty
Sony's Vaio Z-Series VPC-Z137GX/S balances portability, ergonomics, and performance in a way that's hard to beat. It's not quite as light or as small as the average ultraportable, but it offers a 13.1-inch, 1600-by-900-pixel display, great ergonomics, and a built-in DVD burner. It's still smaller and lighter than a typical all-purpose 14- or 15-inch laptop. (It weighs in at just over 3 pounds and measures 11.4 by 1.3 by 8.3 inches.) It looks great and performs superbly; the laptop hasn't sacrificed functionality for portability.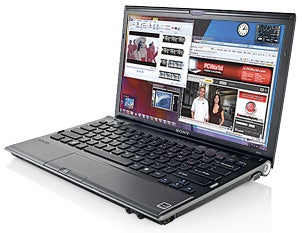 The downside to the VAIO Z-Series is its price: a whopping $2300.
That's owing in part to its 256GB solid-state drive, which gives the installed 64-bit Windows 7 operating system a snappy feel that a standard rotating hard disk can't match. Sony also provides 4GB of 1066MHz DDR3 system memory and a discrete Nvidia GeForce GT 330M GPU with 1GB of video memory.
On our WorldBench 6 test suite, the unit earned an excellent mark of 118, as well as fantastic frame rates in our reference games. High-def (1080p) video played smoothly on the gorgeous display, and the audio sounded surprisingly clear and spacious.
The unit's great performance doesn't hurt its battery life–the laptop ran for 6 hours, 20 minutes in our battery rundown test.
Even with the DVD burner, Sony offers lots of ports: three USB 2.0 (sorry, no USB 3.0), both VGA and HDMI, and gigabit ethernet. You also get Bluetooth and N-wireless, software for sharing a broadband connection with up to five other users, Memory Stick MagicGate and SD memory card slots, and microphone and headphone jacks; but no eSATA or four-pin FireWire jacks.
Video from the Webcam tops out at 640 by 480 resolution. The laptop's backlit, Chiclet-style keyboard resembles the ones on the MacBook Air and the Toshiba M645, but unlike on those units, the backlight around the keys isn't distracting. The keyboard has a nice, firm feel, and the touchpad is well-tuned.
Sony loads its VAIO laptops with software. Many of the programs are branded utilities that duplicate Windows 7 functions, but some–like the Wi-Fi hotspot utility and ArcSoft's WebCam Companion 3–extend the laptop's capabilities. You also get trial versions of Microsoft Office 2010 and Norton Internet Security.
Of all the laptops reviewed in our Test Center in the past year, this model would have been my choice to keep.
–Jon L. Jacobi
Living Light
Using a slim, small, and light laptop comes with a few compromises. These three tips can make it easier to live with an ultraportable's limitations.
1. Let another PC do the heavy lifting: If you want to play the latest games, edit high-definition video, or do the kind of photo editing or large spreadsheet work that demands more-powerful processing and a larger screen, you may want to delegate those tasks to a second computer. Even an inexpensive desktop PC will be far more capable than a lightweight laptop at CPU-intensive applications.
2. Keep your head in the cloud: Storage space is limited on smaller laptops, and you may not have an optical drive. Online storage services like Dropbox, Skydrive, or Amazon Cloud Drive make it easy to save and access documents. Save photos to Flickr or Picasa. Use remote desktop software such as Windows Live Mesh or LogMe­In to access your home or office computer when you are out on the road.
3. A great bag makes all the difference: You'll negate the benefits of having a laptop with a smaller footprint and lighter weight if you lug it around in a huge bag. Take your time in shopping for a backpack, shoulder bag, or handbag. Look for one that's light and comfortable, and fits your laptop, its charger, and your other gadgets and accessories. You want everything to be easy to store and retrieve–in a compact bag.
What About Mac?
Apple makes one laptop that weighs less than 4 pounds: the MacBook Air. Offered in 11- and 13-inch variants, it's extremely thin and light, much like the Samsung Series 9. An 11-inch Air starts at $999, but you'll get only a 1.4GHz Core 2 Duo processor, a 64GB SSD drive, and 2GB of RAM. A 13-incher starts at $1299 with a 1.86GHz Core 2 Duo CPU, a 128GB SSD, and 2GB of RAM.
MacBook Airs are beautiful systems with comfortable keyboards and great trackpads, and you can run Windows on them by using virtualization software. Of course, you'll need to fork over more than $100 for a Windows license on top of the MacBook Air's price.
If you prefer to work in Windows, you're probably better off with one of the lightweight PCs featured here. You can read our re­­views and other coverage of Apple's sleek laptop here.