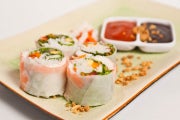 Sick of long wait times or restaurants? Loathe idle banter? Suffer no more! One startup company called E la Carte (get it? 'E' for electronic. Hah!), is offering tablets which will be able to take your order, entertain you, and accept your payments.They're calling it a "Restaurant Revolution." Touché!
The company has so far raised more than 1 million dollars in funding from investors like Y Combinator, and aim to launch their tablets in 20 restaurants on the West coast (yay for me!). You might even see them on your next trip to Applebee's — according to Mashable, the restaurant chain's executives have taken an interest. And E la Carte has the potential to be profitable: E la Carte CEO Rajat Suri claims that customers seated at tables outfitted with their tablets spent 10 to 12% more than those at other tables during the pilot run.
So what does the future of ordering food look like? The tablets allow you to browse the menu, and check out what your meal look like before you order. You can then share what you find with others at the table. Once you and your group find something that you like, the tablet relays your order directly to the kitchen. Not only can you order and pay with the tablet, but you can play social games to entertain your table while you wait.
E la Carte says that the tablet is meant to compliment, and not replace the waiter. They'll strill bring you your food and help you make decisions if you can't make up your mind after looking at all of that delicious food on the tablet.
Robot apocalypse or not, I for one look forward to ordering my first meal from a tablet.
[Mashable and E la Carte / Image via Nick Nguyen]
Follow James Mulroy on Twitter to get the latest in microbe, dinosaur, and death ray news.