Since you're not always sitting in front of a computer, being able to access your calendar only when you're at a computer isn't all that useful. Imagine that you parked your car in the morning, but you have to move it by 5 p.m. to make way for street cleaning or you'll get a ticket. It's easy to forget to add an item like "Move my car by 5pm" to your calendar if you have to wait until you get to a computer to add it. The solution to this problem: Hook your phone into your calendar.
There are a couple of ways to add Google Calendar to your cell phone, whether you own a cutting-edge smartphone or a bare-bones "dumb" phone.
Sync With Smartphones. If you use an Android phone, this is a no-brainer. Android works seamlessly with GCal; you merely log in to your Google account on your Android device, and it will automatically set up your phone's calendar to sync with GCal. Any events you add from your phone will automatically sync with Google Calendar wirelessly.
If you have an iPhone, BlackBerry, Nokia S60, or Windows Mobile phone, syncing your phone's calendar with GCal is similarly easy when you use the free Google Mobile Sync tool for your particular phone. Head over to the Google Sync page and follow the setup instructions for your device.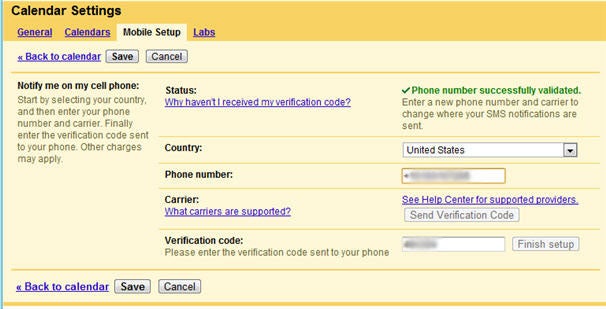 Check Your Calendar and Add Events Via SMS. Don't have a fancy smartphone? No problem. You can still receive event notifications, check your calendar, and even add events to your calendar from any phone that supports SMS messages.
First, head into your GCal settings and associate your cellphone with GCal. Select Settings, Calendar Settings, Mobile Setup, and follow Google's instructions for validating your phone. Once you validate your phone number, GCal can send you event notifications via e-mail or SMS.
You can even add an SMS reminder as one of your default notification methods, in which case you'll always receive notifications for upcoming events, regardless of where you are, as long as you have your phone on hand.
After you've associated your cell phone's number with your Google Calendar account, you can check your itinerary and create new events by sending text messages to Google Calendar's GVENT (48368) number. Want today's schedule? Just text "day" to GVENT.
Even better: You can create new events by texting GVENT, and it supports the same plain-language input that GCal's Quick Add button does. So if you text GVENT "Move my car at 4:30pm," GCal will translate that into a new event on your calendar. For complete details on GVENT commands, check out this Google Calendar help page.