Here are a few communication tools and tips to help you be more efficient at work.
Make Sure Phone Calls Find You. The onus is on you to be available and accessible at all times. Google Voice offers a killer feature for on-the-go business users: a single phone number that can ring all your other numbers (work, home office, cell, etc.), or just the ones you choose. It can also transcribe voicemail into text and deliver those items via e-mail-another great way to make sure you get all your important messages.
Phonebooth is a similar service that also lets you set up a more business-like auto-attendant option so that callers can reach specific departments, and it provides a click-to-call widget that you can put on your website.
Both services are free, though Phonebooth OnDemand ($20 a month) adds a bunch of other features that you might find useful, such as unlimited local and long-distance calls.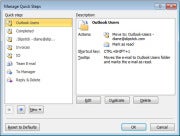 Automate Repetitive E-Mail Tasks. Outlook 2010's Quick Steps automates frequently performed e-mail tasks, such as simultaneously replying to and deleting an e-mail message, creating a new message that goes to your entire team, or moving messages from specified senders into a particular folder. It also lets you create your own custom "e-mail macros" and then trigger them with just one click.
Use E-Mail Instead of Phone Calls. Warm phone chats with clients are great for building and maintaining rapport, but save them for when you have time to burn. If all you need is the answer to a simple question, resist the urge to pick up the phone. Fire off an e-mail and head for the door. You can always watch for the reply on your cell phone.
Use Instant Messaging Instead of E-Mail. E-mail may be faster than a phone call, but it's slower than an instant message. If you have the client's IM address, you can ask a question as quickly as if you were in the same room.
Meebo is a cross-platform chat service that resides in your browser. That means it has no software to install (so it should get a free pass from your company's IT guys), and it can connect you with anyone on just about any network-AIM, ICQ, MSN, even Facebook.
Use Text Messaging Instead of IM. IMing is great for getting quick feedback, but isn't always practical. If the boss is in a meeting, send a text message instead (but only if you have prior approval to do so). A text message has urgency, so it's more likely to get peeked at under the conference table. Send a brief, direct question like "OK to renew WidgetCo's contract at $75K?" to make it easy for the boss to text "Yep" in reply.