RIM's BlackBerry PlayBook tablet has only been available for a few short days and already it has three strikes against it — maybe even more.
The reviews thus far are infamously horrendous, evidence to the fact that RIM was rushing to compete in the tablet market, but soon may not be competing at all.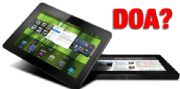 The PlayBook has a lot of mini-strikes against it; let's call those foul balls. For instance, the tablet shipped with no integrated e-mail, contacts, or calendaring — essential tools for just about any wireless-connected device — and BlackBerry's app selection is laughable. But now major wireless carriers and media outlets are inching away from the PlayBook, a move that all but signs RIM's death warrant.
The first big strike was when AT&T pulled the plug on the BlackBerry Bridge app. RIM made its name in the enterprise on e-mail, but because the PlayBook doesn't have native e-mail capabilities, it requires the BlackBerry Bridge app to, you know, function. Though RIM promises to bring e-mail to the PlayBook later this year, by that time there's a good chance RIM will be removing the PlayBook from retail shelves.
But hold on a second: the PlayBook may not make it to big name retail shelves in the first place. That's the PlayBook's second strike: even though RIM was psyched that its tablet would eventually operate on Verizon's 4G network, Verizon is "meh" about the deal. A company spokesperson told Reuters that Verizon is "still evaluating" the tablet and hasn't determined whether they plan on distributing it.
So, let's see. Without email or a high-speed 4G network, you can still enjoy the PlayBook's sharp display to view Web media, right? Maybe not. Hulu just blocked the PlayBook's access to its streaming content. While this isn't too much of a surprise, when you remove AT&T, Verizon and major media channels like Hulu from the PlayBook's ugly equation, RIM doesn't appear to stand much of a chance at making it out of the little leagues, and in fact, may never live down the embarrassment of the PlayBook's failure, should this pessimistic trend continue.