Fujitsu's most recently announced Lifebook laptops pack some pretty unusual features: The Lifebook S761 and P771 replace the optical drive with a pico projector, while the E741 boasts a contact-less authentication system that reads the veins in your palm. The new laptops may seem like solutions in search of a need to many, but there may be a (very) niche market for them too.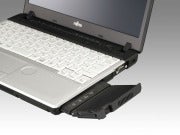 For example, salespeople who are already lugging around an external projector along with their laptops might prefer the slide-out pico projector built into the Lifebook S761 and P771. Specs for both laptops are about average: Second-generation Core i3 or i5 processors, a 160GB hard drive, and 1GB of RAM. The S761 has a 13.3-inch (1366 by 768 pixel) HD display, while the P771's screen is a squarer 12.1-inch WXGA (1280 by 800 pixel display).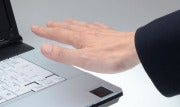 If you're not a salesperson who wants an integrated projector-laptop combo, perhaps the battery conserving, palm vein-sensing Lifebook E741 is for you. Looks like you just hold your palm over the world's first "palm vein" sensor to log in. Fujitsu also describes the E471 as having "ECO Sleep"–a standby power mode that reduces power consumption in hibernation mode to as close to zero as possible. The Lifebook E741 has a 15.6-inch HD (1366 by 768 pixel) screen, 1GB of memory, a 160 GB hard drive, and Intel Core i3, i5, and i7 processors.
All three laptops will be available in mid-May in Japan first at pretty steep prices: 219,450 yen (about $2,675) for the S761, 255,150 yen (about $3,110) for the P771, and 240,135 yen (about $2,932) for the E741.
Follow Melanie Pinola and Today@PCWorld on Twitter