Everyone loves finding hidden goodies in software–almost as much as developers enjoy putting them there. These "Easter eggs" are mostly for fun, but some might contain useful extra features or options. After digging around on the internet, I've found some of the more interesting Easter eggs in apps that you can currently download on your iPhone or iPod Touch.
Kelley Blue Book
If you ever had the desire to browse through the very first Kelly Blue Book, then you are in luck. The Kelly Blue Book app for the iPhone actually has a hidden copy of the 1926 edition of the Kelly Blue Book just waiting to be found.
To get to it, simply open the Kelly Blue Book app. Once on the app homescreen, shake your phone for a bit and a new window will pop up with the 1926 version of the book. To return to the normal app, just press the "Home" icon on the top right corner of the screen.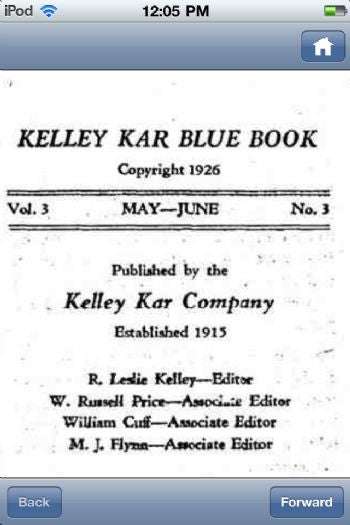 (Thanks to eeggs.com)
Speedtest.org
My favorite Easter egg of the bunch, Ookla's Speed Test app for iOS contains a devious kitty that promises the haunt you in your nightmares. To find this evil cat after which the company was apparently named, open the Speed Test app and run a test like you normally would. Once the test is finished, put your finger on the speedometer and pull it down to reveal the cat in question. You can keep pulling down the speedometer to reveal even more amusing messages.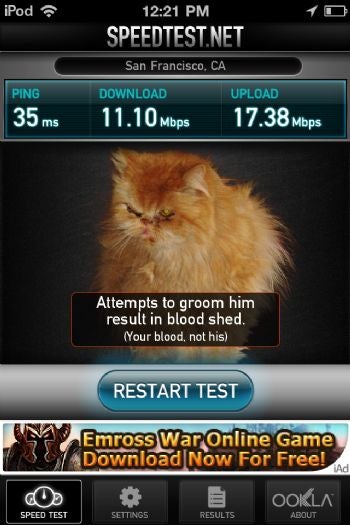 (Thanks to eeggs.com)
Safari and YouTube
A user on the MacRumors forums found this neat little trick:
Go to Safari on your iPhone and completely clear out the URL field. Once you do that, type in "YouTube://" and hit "Go". Safari should close, and the YouTube app should pop open. In older versions of iOS (pre-3.0), a 48 minute long video of Russell Peters doing standup would then appear.
Unfortunately for everyone running the latest version of the OS, the Russell Peters video won't show up and you will just be taken to the homescreen of the YouTube app.
(Thanks to largemammal)
Google Tilt
Another one for Safari, this Google search will leave your browser off its axis. Going to Google.com on your iPhone and doing a search for "tilt" will give you a tilted results page. Don't worry; nothing is wrong with your phone. This was just Google's April Fools prank this year, and it can also be performed in the Android mobile browser.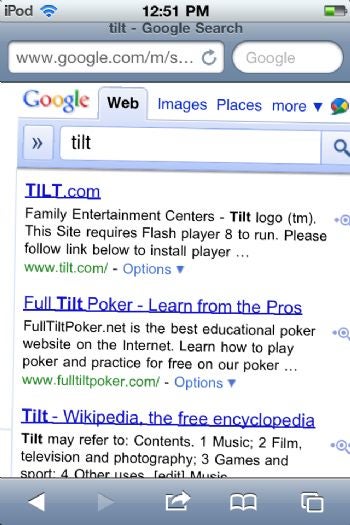 What Easter eggs have you found? Feel free to tell us in the comments below.
Other Articles You May Enjoy:
Google's Top Easter Eggs, Gags, and Hoaxes: 2011 Edition