Though your job might be sheer drudgery when you're dealing with certain assignments, working in Office doesn't have to be. Office has its fair share of hidden secrets that can lighten your workday load.
Work With Word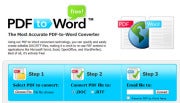 Convert your PDF files: PDF to Word is a neat Web service that converts PDF files to Word format so that you can edit them. Alternatively, you can download Nitro PDF Reader, an app that comes from the same company and offers similar features.
Maximize your macros: Use the built-in Macro function to record and automate repetitive tasks. First enable the Developer tab (in Office 2007): Click the Office button in the upper-left corner, choose Word Options, and check Show Developer tab in the Ribbon. Then switch to the Developer tab in your document, and you can record your own macros (global as well as document-specific) and assign them to keys or toolbar buttons.
Navigate with your thumbnails: Click the View tab and check the Thumbnails box to add a bar on the left side of the window that you can use to skip quickly from page to page.
Strip out text formatting: First copy the text you want (by pressing Ctrl-C); then open the Edit menu (or click the drop-down menu under the Paste icon on the Word 2007 ribbon), choose Paste special, and select Unformatted Text. This removes all of the original special formatting such as hyperlinks from copied Web content.
How to Own Your Office
Bring menus back: If you still haven't learned Office 2007's ribbon system after three years of exposure to it, maybe you should just get rid of it. UBitMenu is a third-party Office add-on that restores the old menu setup. What's more, it's free for private use.
Keep your docs private: Make a Word or Excel document more secure by using encryption and saving it with a password. You can even specify different passwords so that some people can edit the document while others can only read it. Select Save As, click the Tools drop-down menu, and choose General Options (Security Options in older versions of Office).
Find a lost e-mail message: By default, in its All Items searches, Outlook 2007 doesn't include e-mail messages in the Deleted Items folder. If you're looking for a missive that you think you may have deleted, select Tools, Options, Preferences, and click Search Options. Check the box under 'Deleted Items' that says Include messages from the Deleted Items folder in each data file when searching in All Items, and you may be able to pull your missing mail out of the trash.
Eliminate notifications: To disable Outlook's notification sounds and system-tray messages, go to Tools, Options, Preferences, E-mail Options, and click the Advanced E-mail Options button. Uncheck all of the options shown under When new items arrive in My Inbox.
Insert a new worksheet in an Excel spreadsheet: To open a new worksheet in an existing Excel spreadsheet without having to dig through any menus first, press Shift-F11.