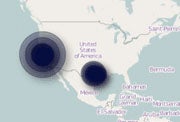 Google has come clean on why Android phones are tracking users' locations, while Apple, showing typical disdain for the press, still won't comment on iPhone location tracking.
Speaking to the Wall Street Journal, a Google spokesman said Android location data is anonymous when the company receives it. The data is tied to a unique ID associated with location alone, not with any personal information such as user name. Restoring the phone to factory settings resets the ID.
Apple told Congress last year that it "intermittently" collects location data on iPhones, and receives the data twice a day, the Journal reports. The company's privacy policy, updated last year to address location tracking, says this data is anonymous.
But last week, researchers reported that the iPhone also stores location data in a file on the phone and on the user's PC. By default, this file is unencrypted, and provides a rough approximation of the phone's whereabouts, using cell tower triangulation. Apple's letter to Congress doesn't mention this file. One theory (not addressed by Apple) suggests that storage of the user's location history is accidental.
Opt Out?
Android and iPhone users can opt out of data collection by turning off location services on their phones, but this limits certain functions of the phone, such as photo geotagging and the "Current Location" bookmark on iPhone maps. Additionally, Android users must opt-in to location tracking when using the phone for the first time, and iPhone users must provide express consent for any application or website that uses location services.
Depending on who you ask, iPhone location tracking is either a big deal or an overblown issue. Either way, it's important to have all the facts so you can decide for yourself. Apple's not making it any easier by staying out of the conversation.
Follow Jared on Facebook and Twitter for even more tech news and commentary.