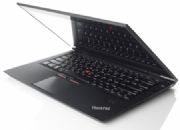 A surprisingly thin Lenovo ThinkPad X1 has just joined the ultra-thin laptop race, marrying the classic business sense of the ThinkPad line with the super sexy form of Apple's MacBook Air and its latest ultra-slim laptop competitors, the Samsung Series 9 and MSI X-Slim X-370. The unannounced ThinkPad X1 popped up for pre-sale in Europe and has been confirmed by internal Lenovo documents to be just 21.5mm (0.85 inches) thin and boast a fast-charging, long-life battery.
Although the ThinkPad X1 is a tad thicker and may weigh almost a full pound more than the MacBook Air and Samsung Series 9 ultraportables, it may be the thinnest business laptop yet. The X1 also sports some impressive specs. (See how X1 stacks up against MacBook Air competition) Running the Sandy Bridge Intel Core i5 processor, the ThinkPad X1 has a 13.3-inch display made of super-tough Corning Gorilla Glass ("Outdoor Panel"), an LED backlit keyboard, 160GB SSD drive and multimedia-friendly features like HD stereo speakers.
Part of a new generation of ThinkPads (which includes the highly-rated ThinkPad X220), a major feature of the ThinkPad X1 is its new battery technology. The X1 may last 3x as long as typical notebook batteries (up to 10 hours with the additional battery slice), and with Lenovo's "RapidCharge" technology, charge 2.5 times faster (80% in 30 minutes).

The Swiss site where the ThinkPad X1 was spotted shows an availability date of May 20, as well as a pretty steep price of around $2,900 (2,585 Francs). When the ThinkPad X1 launches in the US, we can only hope it will be more wallet-friendly, because otherwise the X1 may definitely give the MacBook Air a run for its money. The ThinkPad X1 leak also follows rumors of a Lenovo ThinkPad tablet arriving this summer, so mobile professionals have a lot to look forward to from Lenovo this year.
Follow Melanie Pinola (@melaniepinola) and Today@PCWorld on Twitter