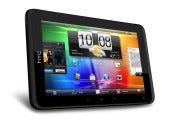 Add another Android tablet to the glut, as HTC's Flyer goes up for pre-order in Best Buy stores.
The 7-inch tablet will cost $499 for a 16 GB model with Wi-Fi, but there's no firm release date. For now, Best Buy is going ahead with a vague timeline of "later this spring." A 4G model will launch on Sprint this summer as the HTC Evo View.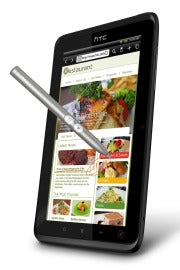 The Flyer's claim to fame is an optional pen–HTC calls it the "Scribe"–that doesn't quite behave like a stylus. The Scribe isn't used for navigation, but for marking up web pages and creating handwritten notes. A built-in notebook app allows the user to record audio while writing–an idea that warms this journalist's heart. Eventually, HTC will open up Scribe to third-party developers who want to add notation to their own apps. No word on HTC Scribe pricing just yet.
It's a neat-sounding feature that distracts somewhat from the Flyer's potential drawbacks. Instead of Android 3.0 Honeycomb, the Flyer will ship with Android 2.4 and tablet optimizations through HTC's Sense interface (although HTC promises an upgrade later). Instead of the dual-core processors found in most current and upcoming tablets, the Flyer has a 1.5 GHz Qualcomm. And, at a time when Android tablets are beginning to undercut Apple's iPad in price, HTC's Flyer only matches it. The Flyer is also a bit chunky, at 0.51 inches thick
Still, as I discovered while playing with the Blackberry Playbook, I'm digging 7-inch tablets, and the Flyer is at least a step up from Samsung's Galaxy Tab. These 7-inchers aren't as good for video as larger tablets, but they're great for reading and gaming, and they're easier to type on with two thumbs. I'll be keeping an eye on this one.
Follow Jared on Facebook and Twitter for even more tech news and commentary.