Android OS is still going strong, but according to the latest quarterly survey by Appcelerator and IDC, developers are becoming frustrated with Google's platform, while most remain enthusiastic about iOS.
This marks the first time Android has experienced a fallback. Among the 2,760 surveyed developers who are using Appcelerator's Titanium cross-platform development software, interest in Android dropped from 87 percent to 85 percent. Involvement with Apple's iOS also dropped one point, but boasts larger numbers: 91 percent and 86 percent of respondents are still psyched about the iPhone and iPad, respectively.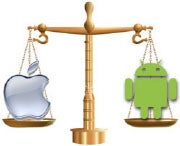 The two main complaints about Android were exactly those addressed by Andy Rubin, head of the Android group, when he announced that Honeycomb would be sealed off from developers: fragmentation and subpar Android tablets. According to the report, 63 percent of those surveyed said Android device fragmentation is the platform's weakest spot, followed by subpar tablets (30 percent) and the overload of Android app stores (28 percent).
Now that the mighty is falling — or has at least plateaued — you might think that other platforms would experience a boon, but not quite. Nearly two-thirds of respondents said it's not possible for Microsoft, Research in Motion, HP, or Nokia to reverse momentum and compete with Apple and Google. In fact, Microsoft and RIM have both fallen below the 30 percentile: Windows Phone fell 7 points to 29 percent, and BlackBerry fell 11 points to 27 percent, the latter possibly related to negative feedback surrounding the BlackBerry PlayBook.
It's not all bad news, though. Android just barely eked past the iPhone to become the most desired smartphone. Nielsen reported that in March, 31.1 percent of its survey respondents said an Android-powered smartphone would be their next purchase, and 30 percent said they wanted an iPhone.
Android and Apple have gone neck-in-neck in terms of market share for quite a while. Sometimes Android experiences a gain; sometimes it's quickly shot down by a different report claiming Apple's iPhone rules the roost. But if we're to assume that apps are one of a smartphone OS's biggest selling points, and Android's fragmentation has reached the breaking point, there's a decent chance that slow development could further damage Android's street cred.