When I started teaching viola and violin years ago, I brought all the books my students used along with me, just in case the kids forgot theirs. Then the kids became more advanced, and I had to carry more books. I also sent them each home with a practice chart for the week. The studio grew, and I printed out more and more weekly charts.
I was carrying pounds of books in addition to two instruments, and printing more than 40 practice charts every week. My shoulder complained. On top of that was the paper clutter that comes with the business: registrations, signed policies, invoices, receipts, checks, recital lists, schedules, and schedule changes.
The pursuit of the paperless office has been a long one, with many businesspeople succeeding. Here's how I moved away from paper, with ideas for eliminating the paper clutter in your own small business.
1. Move Your Business Management to Software
Digitizing the business was the easy part, and the first step in my journey to ditching paper. I found a Website that does most of the back-end management for me. It's specifically geared to the needs of the music teacher, with billing tied to recurring events on the calendar. All of my students now register online, moving that pile of paper into my e-mail and a nice online database.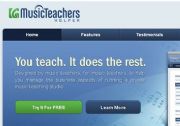 The trick is finding those tools for your industry. Just as most small businesses grow from word of mouth, so do these niche Web management services. For example, Curve Dental provides Web-based software for dentist offices, and AutoSoft Online is designed for car mechanics. I found the site I use on a violin Web forum.
Ask around in your professional organizations to see if someone has already found a good tool. Try Google with terms like "(your industry) online management" or "(your industry) Web tools." Also try variations on how you describe your industry. For example, I get many more useful results when searching for "music teaching" as opposed to "music teacher."
2. Digitize Your Reference Material
I used to carry a bag full of books in case my students would need them, for my own reference, and for rehearsals. It was heavy. (I just threw a bag of music on the scale and it weighed 10 pounds. Perhaps I'm playing the drama queen, but for a musician who plays an instrument notorious for causing back and neck problems, that's significant.)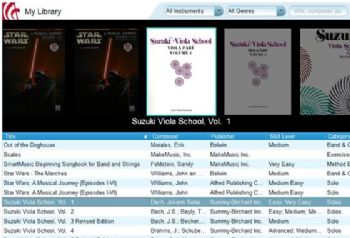 Most of my teaching material is not in the public domain, and the publisher does not provide digital versions. So I found SmartMusic software. Not only does it provide digital versions of most of the music I already use, it's also full of great supplemental pieces my students enjoy reading.
On top of that, it plays accompaniment tracks along with scrolling the music onscreen, and for some tracks will even provide feedback for notes that were played incorrectly. That's way more functionality than my heavy paper books were offering. Sure, I still carry in the occasional book, and I did spend some time scanning others. I use a convertible tablet that can be folded up and placed on the music stand for reading.
What reference material do you carry around? Is it available in a digital format, or can you digitize it easily? Digital references are much easier to search than digging through book glossaries.
3. Digitize Your Work
I used to send students home with printed music practice charts, which gave a concrete idea of what to practice, with a grid of boxes to check off when students had done the work. In the beginning, when students were still working to establish a practice routine, these charts were essential. As the students got older, I moved some of them to individual practice journals that they keep for themselves. For the new students, though–and younger ones who enjoy making the checkmarks for the chart–I wanted to keep using the charts. I couldn't just type them, as I was using a PDF chart found online.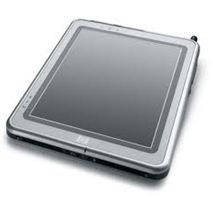 Craigslist served up the answer this time. I picked up a super inexpensive older tablet PC there, the HP TC1100, to experiment. Since then I've upgraded to the HP 2730p. With Windows 7 and OneNote, I can keep all the practice charts on the computer. With the active Wacom digitizer and OneNote's ink tools, I can fill out the chart just like I did with the paper charts before.
(The Wacom digitizer, by the way, is much more than a stylus. It's a pen that actively communicates with the computer, which sees only the pen and not your hand, making for a very natural writing experience. It also allows the computer to "see" the pen before it touches the screen, allowing for hovering and rollover gestures.)
I now have the chart set as a template, and simply e-mail the filled-out charts as PDFs at the end of the day. The students then either can print them out or just look at them on a computer. Also, I have all the charts in OneNote, so when a student forgets to bring the chart with them to the next lesson, I have them all in my tablet computer.
If your business goes through a lot of forms, I bet you could find a way to fill them out and store them digitally–whether with PDFs or strictly Web-based tools.
4. Scan the Rest
As much as I've tried to move everything into the digital world, some things still come in on paper. The biggest paper pile now is of receipts for business expenses. Woot.com recently served up the NeatDesk scanner system, and I grabbed one. It's fast, and the OCR software is quite good. The NeatWorks application is not the most elegant organizational software I've used, but it gets the job done. You can export data to Quicken, Quickbooks, and TurboTax, and the IRS accepts the scanned records.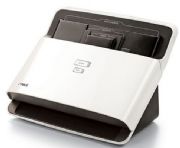 There are also several Websites that will run the OCR on your documents for free. If you need to digitize on a larger scale, check out this story about an ambulance service that went digital. Here's a roundup of the top 5 document scanners.
Why Digitize
For me, there is no going back to paper. I have saved so much in paper and ink, and significantly reduced the weight of what I have to carry to the studio every day. But the real benefits come from having all my student notes with me all the time. And SmartMusic does things I didn't even know were possible, immensely expanding my ability to teach.
Many musicians I know struggle to get ready for tax time, while all of my records are digital and searchable. (While there was some set up and transition time, the investment in time and equipment has been entirely worth it.
Michelle Mastin has been a freelance musician and teacher since leaving conservatories five years ago, and a hobby nerd for all of her 30 years. Watch classical music and modern gadgets collide at her blog, or follow her on Twitter @violajack.