At a Glance
Expert's Rating
Pros
Plays HD movies flawlessly
Inexpensive but elegant
Cons
Lousy gaming and mediocre battery life
Ho-hum everyday performance
Our Verdict
If your performance needs are minimal, this bargain laptop with perfect movie playback is just that–a bargain.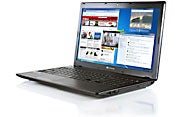 According to every shred of evidence from our performance tests, we should tell you to banish the Gateway NV51B05u from consideration. It's slow for an all-purpose laptop, it has limited battery life, and its gaming frame rates are pathetic. At the checkout counter and in subjective use, however, it's a different story. You can have the NV51B05u for just a bit more coin than a high-end netbook ($470 as of April 26, 2011), yet it offers a 15.6-inch widescreen display, a full-size keyboard, a full-size touchpad, and a DVD burner. It also handles 1080p movies with ease, and–numbers aside–its performance is adequate for many everyday tasks.
Part of the reason for the NV51B05u's low purchase price is the AMD Fusion E-350 dual-core CPU, which provides performance that's a significant step up from Intel's Atom processors at roughly the same price. Though targeted at netbooks, Fusion is fast enough that someone was bound to try it in a larger package–and that's what Gateway did with the NV51B05u. You can look at other NV5x-series laptops with a plethora of CPU options if you care for something sprightlier.
Aside from the merely adequate processor, the NV51B05u has a healthy set of hardware, including Radeon HD 6310 graphics (integrated into the Fusion CPU), 3GB of memory, a 5400-rpm 500GB hard drive, the aforementioned 15.6-inch 1366-by-768-pixel display, and an 8X DVD burner. Connectivity is about average, covering 802.11 b/g/n wireless, gigabit ethernet, and both VGA and HDMI video output. The laptop also has three USB ports, microphone and headphone jacks, and an SD/MultiMediaCard slot.
The NV51B05u is a good-looking laptop. It's dark gray with clean lines and a faux-wood grain. (That sounds a tad lame, but somehow it seems to work. It certainly helps with grip when you pick up the machine.) The keyboard deck sports the same look, with only the slightly recessed power button and the tiny hard-drive, power, charging, and Wi-Fi indicators to break things up.
One doesn't necessarily expect great things ergonomically from a laptop in this price range, but the NV51B05u proved a mostly pleasant surprise. The Chiclet-style keyboard with medium-throw keys has good tactile response, though the clicks have a hollow sound that cheapens the audible effect.
Due to the large keypad integrated into the keyboard, the NV51B05u's touchpad is offset considerably to the left of the keyboard deck. It's in perfect position for access when you're typing, but right-handers will find it an odd reach when not. I wound up using my left hand on it most of the time–contrary to habit. One warning: On our test model the Page Up key broke off at first touch, which doesn't inspire optimism for the keyboard's long-term sturdiness.
The NV51B05u's performance is adequate, but not as snappy-feeling as that of a Core-based laptop–so don't expect that kind of speed. Its gaming frame rates were in the teens even at low-resolution, low-detail settings. In contrast, however, its 1080 video playback was as smooth as silk (with so-so audio through the speakers), so movies are more than just doable–they're enjoyable. Battery life for the NV51B05u is 4.5 hours, which is sufficient for most users but still 2 hours shy of what we normally see. It's not a particularly svelte traveler at about 6 pounds with the AC adapter, but few all-purpose laptops are.
Gateway bundles the de rigueur Office 2010 Starter and branding utilities, but also includes Nero Essentials for burning discs and PowerDVD 10 for playing back DVD movies. You'll find a utility for the high-res, 1280-by-1024-pixel Webcam, as well. Still, taking a bit of time to trim the fat wouldn't be out of order.
The Gateway NV51B05u is a bargain if your computing needs are simple (or simple with a bent toward movie viewing). This laptop isn't for anyone with gaming aspirations, but otherwise its features are first-tier–and you can't argue with the price.