At a Glance
Expert's Rating
Pros
Good keyboard and LCD display
Surprisingly moderate weight for its class
Cons
Modest gaming performance
Poor built-in speakers
Our Verdict
The xm15 compromises on performance a bit, but the end result is a surprisingly light, if generic, 15-inch unit.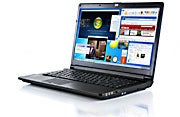 When I first unpacked the Digital Storm xm15, only the logo on the glossy lid distinguished it from a gazillion other generic, ODM (original design manufacturer) laptops. At just under 6 pounds without the power brick, it's a tad lighter than similar laptops with a discrete graphics chip. The xm15 uses Nvidia's Optimus technology to shift automatically between the Intel integrated graphics and the GeForce GT 540M GPU when greater 3D graphics performance is required.
The system ships with an Intel Core i7 2630QM CPU, clocking in at 2.0GHz for normal use, but is capable of single-core bursts up to 2.9GHz using Intel's TurboBoost feature. The 2630QM supports hyperthreading, so it can run 8 simultaneous threads, aided by a full 6MB of L3 cache. Performance on standard apps is pretty good, as its WorldBench score of 123 demonstrates. Battery life is decent, too, at nearly 4 hours.
Gaming performance, however, is a bit lackluster. On Futuremark's 3DMark 2011 gaming benchmark suite, the xm15 posted a performance score of 1019, while on the Metro 2033 DirectX 11 test, it eked out 16 frames per second at medium settings without antialiasing. Far Cry 2, in DX10 "optimal" settings, ran at 35 fps, while Dawn of War 2: Retribution at the high settings (one notch below maximum) barely squeezed out 21 fps. Note that all game tests were run at the full 1920 by 1080 resolution, without antialiasing enabled. If you plan on using the system for serious gaming, you'll need to sacrifice some eye candy and possibly crank down resolution settings if you want acceptable frame rates. Motion smearing during fast action scenes appeared minimal.
The display itself seemed to offer reasonably good color accuracy and surprisingly good viewing angles. Some contrast shifting was noticeable even at slightly off-axis angles, but the image itself didn't radically change until the angle was more than 45 degrees off-axis. Color photos and high-definition WMV-HD video content was sharp, and colors looked good. DVD upscaling was more problematic. I ran several DVD movies through the system, including Serenity, and noticed a certain softness in many scenes, plus distracting amounts of noise in other scenes. What this unit really needs is a Blu-ray drive, but that's not an available option on the xm15.
My harshest comments, though, are about the built-in speakers: They sound tinny, and worse, are difficult to hear in a noisy environment, even with the volume sliders maxed out. This was the case even with Creative's THXStudio app enabled, which has a noticeable impact on volume levels in other systems I've tested–but not so with the xm15. You'll certainly want headphones for gaming, music, or movie watching.
Digital Storm does build in a rich array of ports–you'll find four USB ports, including one SuperSpeed (USB 3.0) connector, plus a separate, dedicated eSATA port. The unit also has HDMI and VGA, plus three audio connections (line in, mic in, and headphone jack. An ethernet jack and a flash memory card slot round out the connectivity options. Network connections include gigabit ethernet and 802.11n; Bluetooth and 3G/4G broadband don't seem to be available.
If you include the power brick, the xm15 weighs just under 7 pounds, which really isn't bad for a 15.6-inch, 1080p laptop with discrete graphics and a 90-watt power supply. At $1029 for this configuration, it's a tad on the high side, but not exceptionally so. Despite Digital Storm's marketing, the xm15 is not a gaming powerhouse, but it otherwise seems to be a well-rounded unit with decent battery life. Still, I wish it had a Blu-ray drive and looked a little less generic.