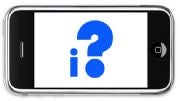 We've heard a lot of rumors about the iPhone 5 lately, from camera specs to release dates to ultra-thin mockups. But if you think you know all the scuttlebutt about Apple's future plans, you're not looking far enough ahead.
Already, the rumor mill is churning for the iPhone 6–no, seriously. According to Japan's Nikkan newspaper, the iPhone 6 will feature a new kind of LCD display with "low-temperature polysilicon" technology, allowing for a lighter, thinner phone that consumes less power than its predecessors. (Expect Apple to call it the "Insanely Great Super Retina Display" or something similar.)
As AppleInsider explains, a so-called "p-Si LCD" allows manufacturers to put optical sensors, signal processors and other circuits directly on the glass substrate. This would save space inside the phone body by reducing the size of the display's thin-film transistor.
Sharp will reportedly begin mass production of the screens next spring, ahead of the iPhone 6 launch in 2012.
But that's all there is to report for now, and I would strongly advise against worrying about what kind of phone Apple is going to release in a year and a half, or whenever the iPhone 6 arrives. This industry's moving fast, and promises of "thinner, lighter and faster" don't amount to much.
Having said that, if the iPhone 7 doesn't create holograms, levitate, teleport, and cook my dinner, I'm going to be hugely disappointed.
Follow Jared on Facebook and Twitter for even more tech news and commentary.