Google Docs has gone native for Android, giving users a bunch of features that aren't available through the Web browser. The app, available for free through the Android Market, provides a slick interface for accessing documents and spreadsheets. The editor itself however is still handled through the browser.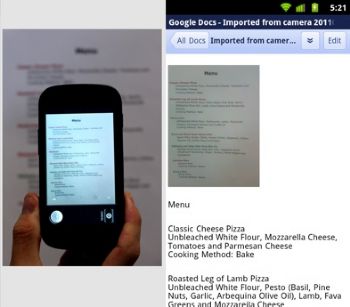 What advantages does a native app have over just polishing up the Google Docs Web app? The Android app comes with a bunch of extra features, such as:
Widget: The Google Docs home screen widget lets users jump to starred documents, create new documents or snap a photo to upload.
Photo-to-text scanning: The Google Docs app can use optical character recognition to turn new or existing photos into documents. Sounds neat, but it won't recognize handwriting or some fonts.
Share with contacts: The native app can tap into an Android phone's contact list to share documents.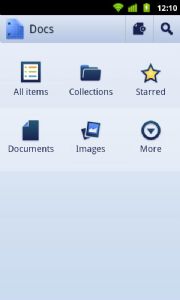 Unfortunately, there doesn't seem to be offline support at the moment. A user in Google's forums did notice that the app includes a cache of up to 20 MB, and there's a "Sync Docs" option under the "Accounts & Sync" setting, but the only thing that appears offline is a list of documents. Maybe offline support will be added in the future, but since the editor is still handled through the browser, I don't see this happening anytime soon.
Google Docs is available now for Android versions 2.1 and higher.
Follow Jared on Facebook and Twitter for even more tech news and commentary.