BlackBerry maker Research In Motion has swiped up social calendar company Tungle. Tungle provides a cloud-based calendar which syncs with your existing calendar, including Outlook (with or without Exchange), Google Calendar, Apple iCal, and Entourage for Mac and Lotus Notes. You can also sync Tungle to Facebook, Twitter, and Foursquare.
The service allows users to share calendars across companies and platforms; to propose meeting times; and to display available dates automatically, based off of all your calendars and without disclosing unwanted information. They can publish this on a searchable database at Tungle.me.
Someone wanting to schedule a meeting with a Tungle user simply can suggest an available time without having to sign up for the service themselves. Users also can build groups and publish public events.
The basic service is free. If a user or company wants to brand their entire scheduling experience, the service costs $4.99 a month or $49.99 a year.
Terms of the acquisition were not disclosed, but on Tungle's Website, the company states that the entire Tungle team is joining the ranks of RIM. Tungle.Me has raised $6.36 million in funding.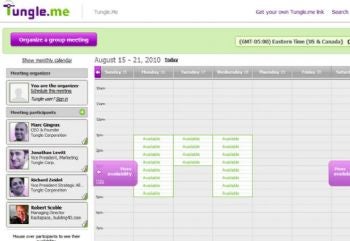 Since Tungle's launch in 2009, the company's scheduling offering was being used at 800 universities around the world, by 40 percent of Fortune 1000 companies, and among users from more than 150 countries.
With the increasing overlap of social and business platforms, the real value of Tungle is that it allows a user to integrate their home, play, and work platforms all in one–which is how they're actually used. I use Facebook and Twitter to find story sources, to reach out to contacts, and also to find a good happy hour. It works.
Business managers should encourage this integration and avoid the urge to separate their employees surgically from social platforms, because these platforms also function as efficient business tools. A company's adoption of Tungle is a step in this right direction. As BlackBerry is the smartphone of choice among corporations (and the White House), RIM understands this convergence, and has made a smart buy to keep up with its users' demands.
So, should you get a BlackBerry so you can use Tungle? Probably not, but if you have one already, it looks worthwhile to check out this service. If you're among the other two-thirds of the smartphone market however, chances are you won't have to wait long for a comparable service.
Ilie Mitaru is a culture and business journalist and an occasional entrepreneur. He is the founder of an alternative business magazine, Stake, set to launch in June 2011.