Apple has started field-testing its next-generation mobile operating system dubbed iOS 5. The hint comes from an App Store developer who received a crash report from a device running iOS 5.0, located at Apple's headquarters. Perhaps signaling the release of the new iOS is imminent, the developer also spotted iOS5 hits from AT&T's HQ, where the release could be tested before public availability.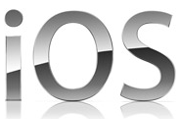 Developer FutureTap tipped 9to5Mac that it has received the first crash report from an iOS 5 device. The crash was apparently because of a user location issue (if you have iOS developing knowledge, it's called MKUserLocationBreadCrumb). With some online digging, the developer found the crash came from a first-generation iPad running iOS 5.0 at Apple's headquarters, while AT&T's iOS 5 hits came from an iPhone 4.
If not only Apple, but also AT&T is testing builds of iOS 5, this could mean that the OS is nearing a public release, or at least a public demo, possibly at Apple's World Wide Developers Conference in early June. The fact that iOS 5 is not being tested on new hardware at this stage also gives credence to rumors that we won't see a new iPhone until later in September (and that the new device is not yet in manufacturing stages).
So far Apple has kept quiet over what new features will be present in iOS 5. Earlier reports indicate the new OS would be "heavily built around the cloud," with some new services added to iPhones and iPads. One of them is said to be a music locker service, basically a way of storing and accessing all your music (purchased from iTunes) wirelessly, without the need to sync with a primary computer (like it is the case now).
Another of these cloud services is expected to be a location-based service that would allow users to find friends and family members. On top of that, a revamp of Apple's MobileMe service is anticipated, potentially free (currently $99 per year), which would give every iDevice holder free access to Apple's cloud e-mail, calendar, and storage service.
Follow Daniel Ionescu and Today @ PCWorld on Twitter