As if this week didn't have enough privacy snafus already, GPS maker TomTom now admits that it helped Dutch police set speed traps by selling anonymous user data.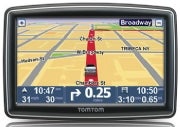 With the rise of built-in navigation on smartphones, the GPS industry is facing a decline in revenue. As the Associated Press reports, TomTom hopes it can offset losses by selling traffic data to local governments.
Although the data given to Dutch police was anonymous, TomTom admitted that assisting police with speed traps went too far. "We never foresaw this kind of use and many of our clients are not happy about it," chief executive Harold Goddijn wrote in an e-mail to customers.
However, TomTom isn't finished collecting and selling anonymous user data. The company will merely modify its licensing agreements to prevent the kind of use that Dutch police sought. TomTom hopes that traffic data can help local governments reduce traffic bottlenecks and improve safety — while making a little extra dough for the company.
Privacy issues have been all over the news this week, with Apple and Google responding to concerns about location tracking on the iPhone and Android devices, and Sony revealing that personal data and passwords were stolen in last week's PlayStation Network breach. TomTom's timing couldn't have been much worse.
Follow Jared on Facebook and Twitter for even more tech news and commentary.