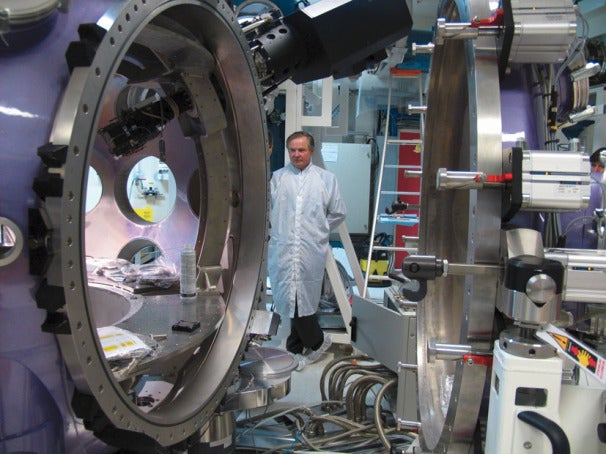 The European Union is advancing its laser research projects with four new laser facilities that will cost over 700 million euros (roughly $1 billion) to construct. The first three Extreme Light Infrastructure (ELI) research stations are relatively tame–sticking to ultra-short energy particles and radiation, atomic photography, and ultra-short energetic particle.
[Hello, visitors from StumbleUpon! You've discovered PCWorld's GeekTech blog, which covers hacks, hardware, and cutting edge tech. Like what you see here? Follow along on Twitter or Facebook.]
The crown jewel of ELI's laser research facilities, the highest intensity pillar location of the four, is still being decided upon but they plan to create the world's most powerful laser there. A 200-petawatt laser to be exact, which is 100,000 times the power of the world electric grid.
ELI researchers plan to use their super laser to tear physics a new one–so to speak–to learn more about particle, nuclear, gravitational, and ultrahigh-pressure physics; as well as nonlinear field theory, astrophysics and cosmology.
Us? We're just hoping the laser doesn't ignite Earth's atmosphere along its way to space.
[Extreme Light Infrastructure via Dvice]
Like this? you might also enjoy…
Get your GeekTech on: Twitter – Facebook – RSS | Tip us off