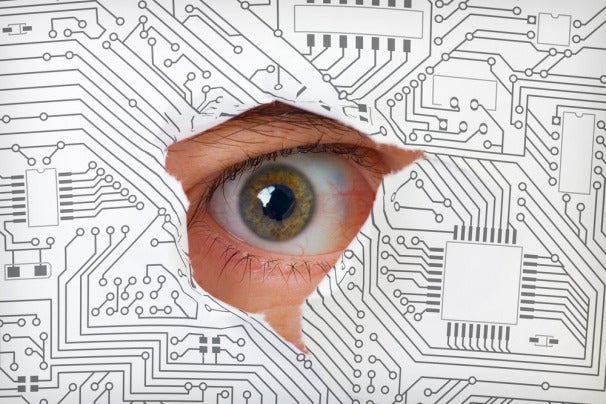 There's a new, awesomely small, cubic-millimeter computer sensor that could eventually find their way into a person's eyes. The prototype, developed by researches at the University of Michigan, was designed to take pressure readings for glaucoma patients. Every 15 minutes, the chip records and uploads its data at the 400 and 900 MHz frequencies using a wireless transmitter.
The most amazing bit of this prototype is not it's small size, but it's ability to run for 28 days on a 40-microwatt battery. And this little thing also has a solar array, which can charge the battery in 10 hours of indoor and 1.5 hours of outdoor lighting.
When the sensor was shown off at ISSCC earlier in February, Technology Review spoke with David Blaauw, a University of Michigan electrical engineer who coauthored the paper. "Reducing the power requirements meant making the circuits larger than they had to be. Smaller circuits would have leaked more current, necessitating a bigger battery and making the whole package larger."
This isn't the first bit of eye technology we've seen lately. Earlier this month we covered how researchers have developed a way to grow an eye. And prior to that, we looked at a mini-robot that can swim through the eyes to deliver medical treatments.
So far the device has not been tested in human or animal eyes, but at least we're one step closer to cyber eyes.
[ISSCC via Gizmodo/IEEE Spectrum]
Like this? You might also enjoy…
Get your GeekTech on: Twitter – Facebook – RSS | Tip us off