The royal wedding went off without a hitch Friday morning, and the Internet appeared to survive the event as well. Web traffic was high during the nuptials, but YouTube was able to stream the event live to millions around the world without choking (much). Twitter's fail whale managed to stay off the royal guest list, but online scammers are just getting started with their royal wedding scams and shenanigans. Here's a breakdown of the online highs and lows during Prince William's marriage to Catherine Middleton on Friday.
Western Europe Busy, While America Sleeps
Global Web usage was big during the royal wedding, but it appears most of the United States decided to stay in bed during the event, or watch in on TV.
Web traffic peaked at about 42 percent above normal around 7 a.m. Eastern Time, according to data Akamai Technologies' Real-Time Web Monitor. The highest Web usage at the time was in the United Kingdom and Western Europe, while United States Web traffic remained normal. That may be the reason why the highly-anticipated event at London's Westminster Abbey didn't appear to be having the same impact online that other major events have had, such as June 24, 2010, the day World Cup qualifying matches and the longest ever Wimbledon match happened at the same time.
News consumption was also high during the ceremony, with a peak of more than 4.5 million page views per minute according to data from Akamai's Net Usage Index. Royal wedding news consumption Friday was higher than when the news of Michael Jackson's death broke in 2009. Akamai reported a high of 4.2 million page views per minute when the King of Pop passed.
Twitter Beefs Up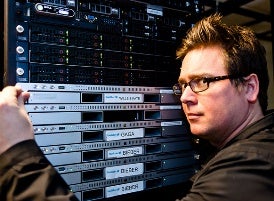 Twitter was joking when the company snapped this photo of co-founder Biz Stone dedicating a company server to royal wedding traffic. But Twitter must have done something right, because the company's infamous fail whale was a no-show during the wedding.
And Twitter users were definitely obsessed with the British Monarchy early Friday. Every Twitter trending topic in the USA was wedding-related, as were the network's worldwide topics.
One big discussion was about the similarities between Catherine Middleton's wedding dress and the dress worn by Grace Kelly when the actress married the Prince of Monaco in 1956.
Royal Wedding Name Scam
Security firm Sophos uncovered an interesting royal wedding-themed game on social networks that could lead you to revealing important information about yourself. The game asked you to put your "royal wedding guest name" into your status update. You did this by taking the first name of one of your grandparents and then creating a hyphenated last name by merging the name of your first pet with the name of the street you grew up on.
See the problem? Those are all typical answers to security questions used to verify your identity online for Webmail accounts and other services. "The few seconds worth of amusement you may get by telling people your royal wedding guest name are not worth the potential pain of having your identity stolen," Sophos warns.
Beware Kate Middleton's Dress
Now that the nuptials are over, people all over the world will be searching for royal wedding information, including images of Catherine Middleton's dress.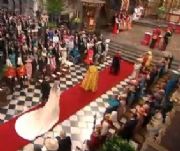 But F-Secure is warning would-be dress hunters to tread carefully online today. Since the dress is likely to be a hot topic of online discussion and Web searches, it's a prime target for black hat search engine optimization pirates trying to lure unsuspecting royal watchers into their traps.
F-Secure already uncovered a scareware attack site when doing a Google Image search for the query "royal wedding coverage." Scareware sites attempt to rip you off by convincing you to buy and install a rogue antivirus program on your computer. Google and Bing do a pretty good job of protecting you from malware, but the best way to keep yourself safe is to only visit sites you trust when looking for royal wedding information. A good place to start is the official royal wedding site here.
Royal Doodle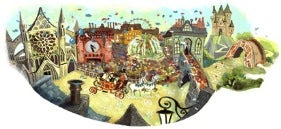 Google also got into the royal wedding festivities with a Google Doodle on Google UK depicting wedding-themed sites in London.
If you missed out on the big show and want to experience the wedding magic from the comfort of your own cubicle this morning, you can relive the highlights on YouTube's Royal Channel here.
Connect with Ian Paul (@ianpaul) and Today@PCWorld on Twitter for the latest tech news and analysis.