Tom Guthrie wants to selectively remove the usernames, passwords, and other bits of text from his browser's AutoFill–or AutoComplete–feature.
I love the way that modern browsers automatically fill in these fields, although some fields I'd rather they left unfilled. I don't trust a browser with the password for a retail or banking site, and I'm certainly not happy when one offers to fill in my credit card number.
And sometimes they want to fill in information that's out-of-date or just plain wrong.
Luckily, you can delete AutoFills. Here's how to do so in the current versions of Firefox, Chrome, and Internet Explorer:
Firefox
This one is very simple. When Firefox fills in a field that you'd rather be left unfilled–or filled with something else–click the field. A pull-down menu will appear with one or more options. Point the mouse to the one you want to remove, so that the option is highlighted. But don't click it. Instead, press the DELETE key to remove the option.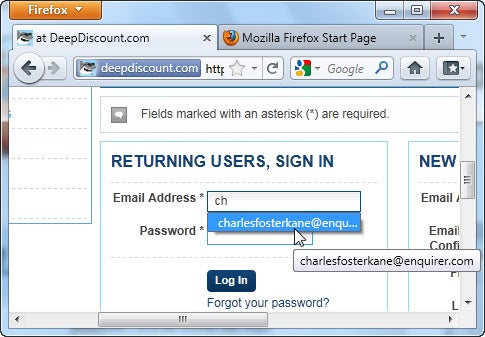 Chrome
Google's browser offers a couple of ways to do this, and has the best solutions of the three.
The first and fastest way is to do exactly what I described above in Firefox. When the pull-down menu appears, point to, but don't click, the item you want removed. When it's highlighted, press DELETE.
But Chrome offers more. If you enter your name and address into one site's web form, it will remember all the fields together and offer to use them on other sites. It does this not only with addresses but also with credit cards–although I strongly suggest you refuse when Chrome offers to save credit card information.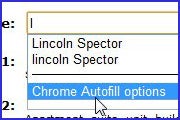 You can do much more than select-and-delete these types of AutoFills. When the drop-down menu appears with the first field's options, click Chrome Autofill options at the menu's bottom. That brings up an Autofill Options tab where you can select various addresses and credit cards. Should one of your addresses contain inaccurate information, you can double-click it for editing. Or you can select an address and click the X that appears on the right to delete it.
Internet Explorer
Microsoft's browser doesn't let you delete individual AutoComplete entries. Your only option (aside from a very slow and difficult Registry-editing trick) is to delete all of them.
Click the Tool icon in the upper-right corner and select Internet options. Click the Content tab. In the AutoComplete section, click the Settings button.
In the resulting dialog box, click the Delete AutoComplete history button. Make sure that either Form data or Passwords (or both) are checked before clicking Delete.
Contributing Editor Lincoln Spector writes about technology and cinema. Email your tech questions to him at answer@pcworld.com, or post them to a community of helpful folks on the PCW Answer Line forum.