AmyShepherdBucobloj plugged her LG Vortex into her laptop with no results. She asked the Windows forum for help.
You might have a hardware problem with your phone, your PC, or your cable. On the other hand, you might simply have the phone set wrong.
First, you have to make sure that the physical connection is working. When the phone is plugged in, look for a USB icon on that row of icons at the top of the phone's screen.

If you find it, you can skip the next three paragraphs.
If the icon doesn't appear, check to make sure the USB cable is properly inserted on both ends. Unplug and replug it. If that doesn't help, try another USB port. Or maybe another computer.
If it works in the other computer, see How Come Windows Can't See My USB Drive? If it doesn't, see if you can find another USB cable that works with your phone and try that.
Should it fail consistently with any computer, and with any cable, take it to one of your mobile provider's stores and let them deal with it. Considering what you're paying them every month, they really should fix it.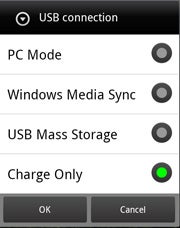 But if you see the USB icon, then the phone just may be set to use the connection in a way other than the one you want. Pull down the top bar on your phone and select USB connection. There you'll find several ways that the phone can connect to the PC. Pick the one you want.
One hint: If Windows Media Sync doesn't work for syncing media, try USB Mass Storage.
Read the original forum discussion.
Contributing Editor Lincoln Spector writes about technology and cinema. Email your tech questions to him at answer@pcworld.com, or post them to a community of helpful folks on the PCW Answer Line forum.