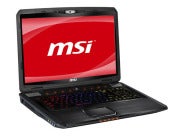 MSI's new GX780 is a gaming laptop which has, not only the just the usual high-end specs, but also a flashy keyboard tailored specifically for gamers. The 30-color LED backlit keyboard, designed in partnership with SteelSeries, is one of the most striking laptop keyboards to date. The keyboard layout also has functional changes as well to "give you an edge in battle."
First, the basics: The GX780 packs Intel's second-generation Core i7 quad core processor and nVidia's GeForce GT 555M graphics card. The 17.3-inch display is available in full HD (1920 by 1080 pixels) or HD+ (1600 by 900 pixels) LED backlight. With support for dual hard disk drives and up to 16GB of memory, there's lots of room for expansion. MSI says supercars inspired the exterior design.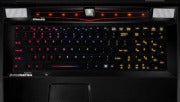 The real show-stopper here is the keyboard. There are 5 different modes for the keyboard backlighting (helping you find the critical Ctrl, A, W, S, and D keys), and the keyboard lets you execute up to 10 commands simultaneously. Even the Windows function key has been relocated "to reduce the possibility of accidently striking it when you're hip-pocket deep in ogre blood," as MSI's press release puts it. Overall, the keyboard adjustments were designed to make executing commands much faster in games.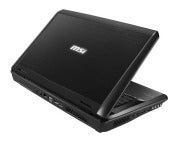 No pricing is available yet on MSI's GX780 product page, but, as with most gaming laptops, expect to pay for the blazing performance capabilities and fine-tuned keyboard.
Follow Melanie Pinola (@melaniepinola) and Today@PCWorld on Twitter