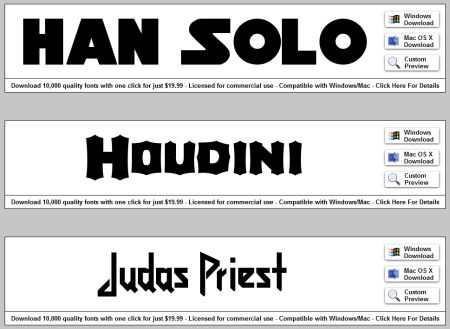 Windows comes with a decent assortment of fonts, but they're pretty basic. If you want to jazz up your newsletter, school report, work documents, or even video titles, you need to find an outside source.
The aptly named 1001 Free Fonts is a great place to start. It offers–wait for it–1,001 fonts for Windows (and Mac, if you're interested), all of them free to download, no strings attached.
They're alphabetically organized, but that probably won't help unless you're looking for a particular typeface. A better bet is to browse the categories, which run the gamut from Animal and Asian to Sci Fi and Typewriter. I particular like the Famous section, which reproduces various well-known fonts (as shown in the above example).
To download any font, just click the Windows Download button alongside it. That'll download a Zip file containing your new font. Extract the file, then copy it to Windows' Fonts folder. (In Windows 7, the OS I use, you can click Start, type fonts, and press Enter to quickly access the Fonts organizer. Drag your extracted font file to that window to install it. If you have an older version of Windows, try these instructions.)
If you'd rather not download fonts one at a time, the site does offer a collection of 10,000 fonts for the pretty reasonable price of $19.99. Font for thought.
Contributing Editor Rick Broida writes about business and consumer technology. Ask for help with your PC hassles at hasslefree@pcworld.com, or try the treasure trove of helpful folks in the PC World Community Forums.