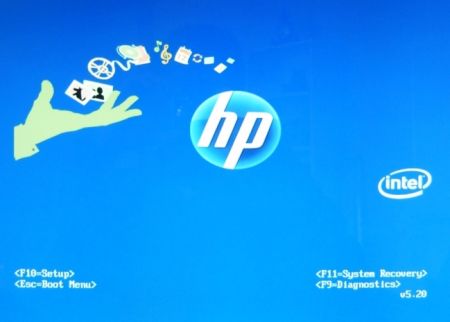 Lately I've had the weirdest rash of PC problems. I'll spare you the gory details, but today's was the worst: my media-center PC locked up hard, and when I rebooted, it wouldn't get past the blue HP startup screen (a.k.a. the splash screen). What a great way to ruin a Sunday!
I powered it down altogether, waited a few minutes, then tried again: same result. Not encouraging. Immediately my mind went all kinds of worst-case scenarios: fried motherboard, bad RAM, dead hard drive, and so on. (Hey, even I get a little panicky when my recorded TV hangs in the balance.)
Then I remembered a troubleshooting step I'd learned years earlier. I unplugged every USB device (which in this case was just two peripherals), then powered up the system. Presto: it booted right up. Then I reconnected the USB stuff and was back in business.
Your mileage may vary; there's no guarantee this fix will work for everyone. But it's a good place to start if you find yourself stuck at the splash screen and can't figure out what to do next.
While we're on the subject of troubleshooting, here are some other posts you might find useful:
Fix a Windows 7 System That Randomly Freezes
A Quick Fix for Slow Internet Access
Use a Spare User Account to Troubleshoot Windows Problems
Troubleshoot a Windows XP System That Won't Shut Down
Contributing Editor Rick Broida writes about business and consumer technology. Ask for help with your PC hassles at hasslefree@pcworld.com, or try the treasure trove of helpful folks in the PC World Community Forums.