Apple is expected to refresh the iMac line next week, adding new Intel processors and Thunderblot ports, according to AppleInsider. If the rumors prove accurate, May 3 should be the day the improved iMacs go on sale. The iMac line was last updated nine months ago.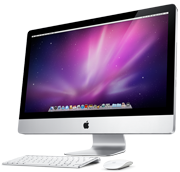 The new iMacs will reportedly introduce new Intel chips based on the Sandy Bridge architecture, as well as swap the miniDisplay port in favor of a high-speed Thunderbolt port. Other specifications are uncertain at this stage, such as the amount of RAM and storage, or graphic cards.
Probably the most certain addition to the new iMacs are Thunderblot ports, which were first introduced by Apple on the MacBook Pro line in February. Although Apple was the first to market with the high-speed data transfer Thunderbolt ports, the technology behind it comes from Intel. Thunderbolt can achieve transfer speeds of up to 10GB per second.
Electronista speculates that Apple is likely to increase the storage options to 1.5/2 terabyetes, and bump up the amount of RAM to 4GB on high-end models. The video chatting camera on the new iMacs could also get a spec bump in order to enable high-res FaceTime calls (as seen on the new MacBook Pros). What's unknown at this stage is whether Apple will make any dramatic changes to the display sizes of iMacs, or adopt faster SSD drives, which are still quite pricey.
What new features would you like to see implemented in new iMacs? Sound off in the comments below.
Follow Daniel Ionescu and Today @ PCWorld on Twitter