Google Maps fans have been in full satire mode writing reviews for what might be the site where American forces killed Osama Bin Laden in Abbottabad, Pakistan. Shortly after President Obama spoke to the nation on Sunday, people scoured Google's satellite imagery and came up with what may very well be the hideout where the al-Qaeda leader was staying. The purported Bin Laden site on Google Maps looks like a large estate surrounded by large security walls, similar to the description of the compound showing up in news reports.
Whether or not it's the genuine location, Google Maps users have been having fun writing scathing reviews for the former home of the world's most famous terrorist. "Heat sources are undeniable. This place is blazing!" said one reviewer. "Cold and drafty at night, walls full of holes," said another. A more helpful review said, "Free HBO, but 'death to America!' chants were getting old. Better options nearby."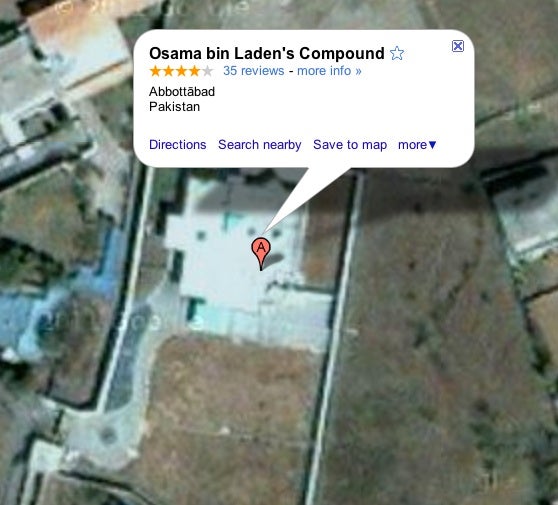 Another Maps user went to town posing as Bin Laden and providing a review of several sites in the Pakistani city the al-Qaeda founder called home. "Love that bloomin' onion appetizer but it goes straight to my thighs," faux Bin Laden said of Abottabad's Red Onion restaurant. About the nearby Cannt Police Station, the satirical account said, "friendly staff." Discussing his former home, fake Bin Laden said, "great hideout would use again."
Twitter News Network
Social Media appears to have played a big part in disseminating news about Bin Laden. Keith Urbahn, former chief of staff for Bush Administration Defense Secretary Donald Rumsfeld, got the credit as the first person to leak the news on Twitter before any of the news agencies got the chance. This led to many critics saying that was a watershed moment for Twitter. Business Insider called it Twitter's CNN moment, a reference to the news channel's famed coverage of the first Gulf War. But Urbahn Monday morning downplayed the significance of his leak. " As much as I believe in rise of 'citizen journalism,' blogs, twitter etc supplanting traditional media," Urbahn said. "My tweet isn't great evidence of it." Urbahn noted he got the information about Bin Laden's death from a TV news producer, a member of the so-called mainstream media.
Interestingly, an IT consultant living in Abbottabad appears to have unwittingly live tweeted the American forces raid on Bin Laden's compound. Sohaib Athar (@ReallyVirtual on Twitter) complained of loud helicopters and explosions overheard during the night in the small Pakistani city. You can find a complete timeline of Athar's tweets here. It appears Athar's 15 minutes of worldwide fame are already wearing thin on the IT consultant. "Bin Laden is dead. I didn't kill him. Please let me sleep now," Athar tweeted early Monday in response to the overwhelming media attention his tweets have received.
Connect with Ian Paul (@ianpaul) and Today@PCWorld on Twitter for the latest tech news and analysis.