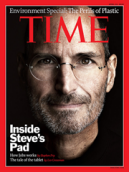 Time Inc has secured a deal with Apple that will bundle free iPad access to print subscribers, according to a Wall Street Journal report. If you have a print subscription to Time, Sports Illustrated, or Fortune, you will be able to log into the iPad versions of the publications and get the electronic editions for free starting today.
Until now Apple did not allow publishers to bundle print subscriptions, so users of the Time Inc. titles (except People) had to pay extra to get the iPad editions of print magazines. But the new deal will allow print subscribers to log in with their credentials in Time Inc's iPad apps and download the titles for free (it's still business as usual for digital subscribers).
Apple Loosens Grip On iPad Subscriptions
The details of Time Inc's deal with Apple are still unclear, but it is a softening of Apple policy. Under initial terms, subscribers had to use Apple's subscription system to sign up for an iPad edition of a publication (via in-app purchases), enabling Apple to keep 30 percent of the revenue and control over user information.
This has led to most magazines selling individual issues within their iPad apps, in most cases at higher prices than their print counterparts. In this context, Time Inc's deal with Apple to allow free print subscriber access to iPad editions is a positive step forward in Apple relaxing rules for publishers, allowing for greater flexibility.
But the deal with Time is not even near the end of the story. Apple and publishers still have room to talk about handing subscriber information, an important part of how publications monetize readership; and we have yet to see whether other large publishers will play ball with Apple's rules or will try to eschew Apple's 30 percent cut from everything sold in the App Store.
Follow Daniel Ionescu and Today @ PCWorld on Twitter