Starbucks isn't just an inviting place for sipping lattes and getting free unlimited Wi-Fi on your laptop, it's also a favorite spot for thieves. The New York Times is reporting a trend in thefts at the popular coffeehouse, as thieves snatch laptops, handbags, iPads, and whatever else customers carelessly leave unsecured while they order their drinks or go use the restroom.
It may sound like common sense to most of us: leaving your gear unattended — especially in a big city like New York — makes you vulnerable to theft. One police officer commented to the Times that "people who left laptops behind to use the restroom should not be surprised to return to an empty table."
But apparently theft of laptops and other personal items at Starbucks is a common phenomenon. One police task force arrested 200 grand larceny suspects preying on Starbucks customers last year.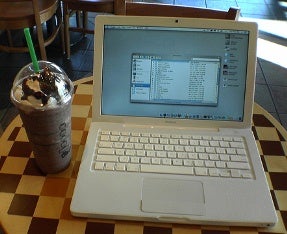 People just seem to be overly comfortable at the coffeehouse, letting their guard down. (To be fair, this is a problem not just with the Starbucks chain, but all similar environments.) In her guide for using Starbucks as your office, my PC World colleague Liane Cassavoy reports that none of the mobile pros interviewed for the story were terribly concerned about their gear.
"Most folks," she writes, "rely on a friendly neighbor or barista to keep an eye on their laptop when they run to the restroom or step outside to make a phone call."
Then there are others who don't think twice about leaving their laptop or bag on a table to reserve it while they go stand in line.
Well, perhaps now more people will be more vigilant with their gear in public spaces. A laptop lock, like the Kensington MicroSaver Keyed Alarm Notebook Lock that Liane mentions, secures your laptop to the table when you get up to place your order. Or you could just keep your bags and laptop with you at all times. Otherwise, that grande mocha cappuccino can end up costing you a whole lot more than you expected.
Follow Melanie Pinola (@melaniepinola) and Today@PCWorld on Twitter.