At a Glance
Expert's Rating
Pros
Dual multitouch screens offer unique capabilities
Stylish design
Cons
Uses last-gen Intel processor
Poor battery life
Soft keyboard slows typing
Our Verdict
Though Acer did a decent job with the touch features, replacing the lower deck with a touchscreen is a poor trade-off.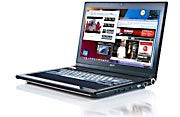 The Acer Iconia 6120 laptop is one of those marquee, "halo" products meant to draw attention to the brand as much as to satisfy everyday computing needs. In many ways it's a pretty ordinary 14-inch laptop. The standout feature, however, is its second 14-inch multitouch screen, which replaces the entire lower keyboard-and-touchpad deck. As high-concept products go, the Iconia is fairly affordable at $1199 (as of May 2, 2011). Still, at that price it isn't a very good deal, and you're better off choosing something a little more down to earth. Acer's dual-touch implementation of a Windows laptop is about as good as you could expect it to be, but it's just not a great idea in the first place.
You don't actually get a whole lot of computing power for your $1199. The system ships with a 2.66GHz Core i5-480M; that processor isn't slow, but it is part of the previous generation of Intel Core CPUs. Acer would get better performance and battery life from one of the newer Sandy Bridge models. The Iconia also relies on Intel's integrated graphics, which is fine for everyday desktop productivity stuff, but a poor choice for high-def video playback or 3D gaming. Here, again, the newer generation of Intel processors would help a lot. The Iconia comes standard with 4GB of fairly slow RAM, and the 640GB hard drive is a pokier 5400-rpm model instead of a snappier 7200-rpm drive. In our tests all of that added up to a ho-hum WorldBench 6 score of 109. Everything is responsive enough when you're just checking e-mail, browsing the Web, or writing documents. Push the system with more-intensive tasks, though, and it becomes sluggish.
To fit the second screen, Acer clearly had to give up some of the standard features we expect on laptops of this size. You get HDMI and VGA ports for video output, a pair of USB 2.0 ports on the left, a USB 3.0 port on the right, headphone and microphone jacks, 802.11n Wi-Fi, and gigabit ethernet. What's missing? Most laptops of this size and weight also have a multiformat card reader, Bluetooth, an optical drive, and a combination USB/eSATA port, none of which appear on the Iconia. Acer is obviously banking on the desirability of its dual touch-screen design to make up for the shortcomings.
Since the entire bottom deck–where the keyboard, touchpad, and other miscellaneous buttons usually reside–has been replaced by a multitouch capacitive touchscreen, you do all typing on a soft keyboard. It works better than I expected, but I still found myself typing more slowly and making more errors than I would on a good physical keyboard. The keyboard's size makes using it a little easier than typing on an iPad or a similar tablet, but that's faint praise. The touchpad area beneath the keyboard is oddly small, and lacks support for the standard gestures we've come to expect, such as two-finger scrolling. That's a little mind-boggling, as it's all just software and Acer could easily have addressed those issues.
Touch all five fingers to the lower screen, and you'll bring up a special hub that lets you draw gestures, quickly select from several features, or launch one of Acer's touch-enabled applications. The touch Web browser spans both screens, but won't make you switch from Chrome or Firefox. The SocialJogger app shows your Facebook, Twitter, and YouTube feeds; it works as advertised and feels like a slightly laggy tablet application, but you really have no need to use it when you have a full Windows laptop at your disposal. The same goes for the touch-based music and photo apps. Yes, they all work as described, but they're just so…superfluous. Navigating these programs on a lower-deck touchscreen doesn't save you significant time or effort. Most of them would work just as well on the upper touchscreen, and none of them are huge timesavers compared with the plethora of standard keyboard-and-mouse software out there.
If the Acer Iconia has one main problem, it's that the lower touchscreen comes with a whole lot of baggage. It makes the system thick, for starters. At 1.4 inches thick, the Iconia isn't huge, but it is considerably thicker than laptops with similar specs and no optical drive. It's pretty heavy at 6 pounds, too. I already mentioned the missing card reader and Bluetooth. And driving two large LCDs puts a strain on the battery, which lasted a paltry 2 hours, 11 minutes in our tests. All so that you can have a mediocre soft keyboard and some touch apps that don't take up space on the upper screen?
Acer would have been much better off equipping the Iconia with a standard physical keyboard and replacing only the touchpad with a fairly high-resolution 4-inch touchscreen. It's good to see Acer trying some aggressive designs, especially ones as aesthetically pleasing as the Iconia's, but as a practical matter it just doesn't make sense to replace the lower deck of a Windows laptop with a touchscreen.