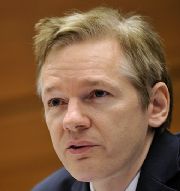 Julian Assange claims that Facebook is complacent in providing the U.S. government with a way to spy on its citizens, calling it "the most appalling spying machine ever invented."
The controversial founder of Wikileaks made the comments in an interview with Russia Today that aired on Monday. Assange is currently in England and is awaiting extradition to Sweden over sexual assault charges filed by two women last year.
Has Facebook automated government snooping?
Facebook and other sites all have built-in methods for U.S. intelligence personnel to snoop on users of the site, Assange claims. Users' information, including names, locations, relationships, friends, and communications are all there for the government to see, and Assange appears none too happy about it.
"It's not a matter of serving a subpoena, they have an interface they have developed for U.S. Intelligence to use," Assange told Russia Today's Laura Emmett. "Now, is it the case that Facebook is run by U.S. Intelligence? No, it's not like that. It's simply that U.S. Intelligence is able to bring to bear legal and political pressure to them."
The idea that Facebook could be used as a spying tool is nothing new–the Justice Department has already begun training its personnel on how to use social networking sites as tools in evidence gathering. Local law enforcement has also been known to use social networks for evidence gathering on suspects.
Assange's claims do not revolve around these methods, which would typically involve a subpoena or an undercover cop. What he is saying is that the government is getting free reign to spy as it wants without going through the usual legal channels.
"Everyone should understand that when they add their friends to Facebook, they are doing free work for United States intelligence agencies," Assange said.
Facebook: We fight back when necessary
Facebook is already facing increasing criticism over privacy issues, and more attention to the topic could harm its reputation even more. Spokesperson Andrew Noyes takes issue with Assange's characterization.
"We don't respond to pressure, we respond to compulsory legal process," Noyes told PCWorld in an email. "There has never been a time we have been pressured to turn over data-we fight every time we believe the legal process is insufficient."
Noyes did say that Facebook's policies governing the release of data to government officials are dependent on the laws of that particular country, and that the site "respects that standard."