Yesterday, a curious thing happened. Amid widespread jubilation over the death of terrorist Osama bin Laden, a wave of Facebook and Twitter users responded with a message of peace attributed to American civil rights leader Martin Luther King, Jr. It began: "I mourn the loss of thousands of precious lives, but I will not rejoice in the death of one, not even an enemy."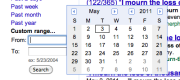 But did the great Dr. King really say those words? I was curious, but like Megan McArdle at The Atlantic, my initial Google search turned up thousands of results from just the previous few hours, making it hard to tell at a glance how far back the quote actually existed. Fortunately, Google includes a date-range filter that can help you weed out results that don't fit the timeline of what you're looking for.
There are a couple of ways to use the date-range filter on Google, and the easiest is to first run your search, then click the Custom range… link in the left sidebar, next to your search results. This will pop up a date-picker menu that you can set to any range you like. You can fill in both the From and To dates, or just use one or the other.
In my example, I wanted to find results that predated the announcement of bin Laden's death, so I set my To date to "5/1/2011" and left the From field blank. Of course, because so many people around the world posted that quote from different time zones, I had to reset the filter to an even earlier date. On the assumption that, if MLK had actually said those words, the quote would've predated the present decade, I changed the year to 2000. That narrowed the results down to about half a dozen blogs that may have had their date settings messed up, but were still very clearly using the quote in the context of yesterday's meme.
To my satisfaction, the phony MLK quote has been effectively debunked by well-filtered searching.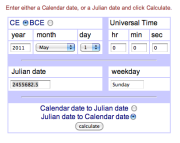 Alternatively (and I include this only because it's geeky and fun, not because I think it's particularly useful or time-saving for most people), you can use the daterange operator in the search field. But beware: The daterange operator uses the Julian calendar, rather than the Gregorian calendar we're all accustomed to. So to use it, you first need to know the Julian dates for the time span you're searching for. A Julian calendar converter like this one will do the trick. Once you have your Julian dates, add daterange:<Julian start date>-<Julian end date> to your search text to include the filter.
Want more cool Google tricks? Check out my post on saving time in Gmail with smart queries, or Keir Thomas's 10 Awesome Google Tricks You Missed.