Hold on to your restraining bolts Android fans, because Amazon's one-panel tablet may be heading your way in the second half of 2011, according to online rumors. The purported device is reportedly being made by Taiwanese manufacturer Qanta and will have an LCD screen made by E Ink Holding, the company behind the Kindle's display. Amazon may have high hopes for the new tablet and monthly orders for the device could go as high as 700,000 or 800,000 at peak season, according to DigiTimes.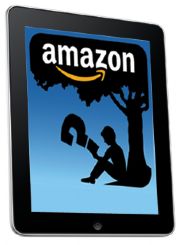 Talk of an Android tablet has been gaining steam ever since the online retailer launched its Appstore for Android in March. Few rumors have surfaced discussing the specifications of the rumored tablet such as its screen size or storage capacity or what type of processor it would have. Most people expect Amazon to use Android as the tablet's operating system since the company has invested in its new app store. But it's not clear whether Amazon would use Honeycomb or the forthcoming Ice Cream Sandwich.
Beyond the specs, one thing that most critics agree with is that an Amazon tablet would have deep integration with Amazon's digital retail business. This would make it a worthy challenger to Apple's iPad 2 and the iTunes universe. Just like Apple, Amazon can provide its tablet users with a large music store, a wide selection of movie and television rentals and purchases, a curated app store, and a killer selection of e-books through the Kindle Store.
There are also rumors that Amazon may forego the native Android look for a highly customized experience similar to Barnes & Noble's color Nook, according to gdgt. That may mean Amazon's tablet won't have native Google apps such as Gmail or Google Voice, as accessing those apps requires a business deal with the search giant. That would be a shame since productivity apps from Google would complement Amazon's digital retail offerings.
Of course, the big question with an Amazon tablet is how that would affect the company's e-reader business with the Kindle. DigiTimes says that while the e-reader does well in North America and Europe it is not a popular device in the rest of the world. That may lead Amazon to cut the price of the Kindle even further, DigiTimes says. Recently, Amazon unveiled an ad-sponsored Kindle that sells for $114, which is $25 cheaper than the $139 Kindle.
Amazon's isn't the only hotly rumored tablet expected to appear in the coming months. Lenovo may also be hard at work on a new Android-based ThinkPad tablet.
Connect with Ian Paul ( @ianpaul ) and Today@PCWorld on Twitter for the latest tech news and analysis.