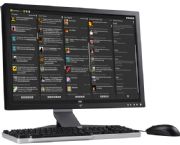 If Twitter really is buying TweetDeck, the best thing that can mean for users is nothing.
TweetDeck is the tool of choice for Twitter power users, because it strips away many of Twitter.com's eccentricities and focuses on timelines. TweetDeck can cram multiple timelines on the screen at once, including your basic feed, @replies, other accounts and news feeds from Facebook. It is simply the best way to get a lot of information in single glance. I'm not crazy about the desktop app, but TweetDeck's Chrome Web app is invaluable.
But lately, Twitter has soured on the idea of third-party Twitter clients. The company wants to have a consistent experience for its users–and, I'm guessing, a consistent interface through which to tell advertisements–and therefore will not allow new third-party clients that duplicate the functionality of Twitter's official apps and Website. Existing clients, such as TweetDeck, are allowed to stay, but with strict enforcement of Twitter's terms and conditions.
According to TechCrunch, Twitter's $40 million to $50 million TweetDeck acquisition is a defensive move. Another maker of Twitter clients, UberMedia, was also reportedly eying TweetDeck, and that worried Twitter. If another company controlled the experience for a significant chunk of users, that'd put a big damper on Twitter's plans for consistency.
Twitter is expected to announce the acquisition later this week, begging the question of what will happen to TweetDeck.
The odds of Twitter shutting down TweetDeck seem slim. The backlash, I imagine, would be too severe. But there are still plenty of ways Twitter can ruin TweetDeck. It could stop development on new products such as the TweetDeck Web app for all browsers, letting the software languish. It could make the interface inhospitable with overly intrusive timeline ads or unnecessary features (see: Quickbar).
But the best case scenario would be business as usual. The TweetDeck team could keep working on its product, and Twitter power users could keep enjoying it without distraction.
Follow Jared on Facebook and Twitter for even more tech news and commentary.