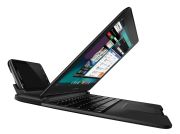 The Motorola Atrix's ability to transform from a smartphone into a laptop via the dock accessory is a grand concept, but reviews all around have basically called the dock a dud. Now that Motorola has confirmed it will be making more laptop docks for smartphones other than the Atrix, it'd be great if the next versions are actually usable.
By usable, I mean not sluggish, awkward, unwieldy, or frustrating, as the experience with the Atrix laptop dock has been described by critics. For $500 for the dock alone, the smartphone-turned-laptop better perform–budget laptops, after all, are now going for $400.
Although Motorola is saying it will be making cheaper versions of the dock–possibly with smaller screen sizes and resolutions–no price may be low enough to combat a lagging Webtop user interface or poor graphics performance.
So, Motorola, here's what you could do to make your upcoming docks worth it and build them into the game-changing technology that they could be: Keep the light-and-thin form factor and the speakerphone, but give the docks decent multi-touch trackpads and solid keyboards that can be typed on comfortably.
Higher resolution rendering of enlarged documents on the laptop docks would be much appreciated (I'd love to see a touchscreen display, but know that won't happen at the cheaper price points). And, at the very least, speed up web browsing and performance over the cellular network. (For more hints, see what Asus is doing with its $149 Eee Pad Transformer dock–more ports, a card reader, additional storage, and double the battery life.)
Thanks in advance…
P.S. The Atrix 4G alone is an impressive smartphone, so keep doing what you do on that front.
Follow Melanie Pinola (@melaniepinola) and Today@PCWorld on Twitter