Apple's new iMacs include Intel "Sandy Bridge" processors, Thunderbolt IO ports and Facetime HD cameras, but those aren't the most interesting things about the new desktop computers.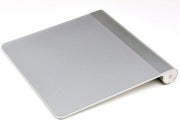 More noteworthy is Apple's elevation of the Magic Trackpad to equal footing with the Magic Mouse. As CrunchGear points out, both are standard options with the 2011 iMacs.
Apple introduced the Magic Trackpad in July 2010. The 5-inch-by-5-inch glass surface, backed by aluminum, is an oversized, standalone version of the trackpad that ships with Apple's MacBooks.
Of course, when Apple announced the Magic Trackpad, there was plenty of speculation on whether the traditional mouse was doomed. I was skeptical, partly for ergonomic reasons, and partly because Apple itself wasn't including the Magic Trackpad with its computers. Instead, it sold as a $69 accessory.
With the new iMacs, the Magic Trackpad comes standard for anyone who prefers it over the Magic Mouse. The mouse is sure to take a hit as some Mac enthusiasts choose the giant touch surface over a moveable pointing device.
But I wouldn't start planning the mouse's funeral just yet. For starters, no major hardware makers have come up with a Magic Trackpad equivalent for Windows. And even if they did, there will always be people who prefer the ergonomics and accuracy that a mouse provides.
And that's fine. These two technologies, mouse and trackpad, needn't kill each other off. I'm happy to live in a world where both can co-exist, and where new iMac buyers can get either one without handing over a fistful of extra cash.
Follow Jared on Facebook and Twitter for even more tech news and commentary