Apple and its App Store will remain king when it comes to mobile app revenues for years, according to new research that expects the overall paid app market to double by 2014.
The report, released by IHS Screen Digest, projects mobile app revenues posting steady year-over-year growth that resembles mobile phone signal bars. And making up the bulk of each increasing bar is Apple.
The market research firm thinks Apple will retain 60 percent of the paid apps market by 2014, down from its predicted 76 percent market share for 2011.
Although the report predicts Google's Android Market to have the biggest growth in 2011 — an almost 300 percent increase over 2010 figures to more than $425 million – it still has a lot of catching up to do to rival Apple's predicted $2.91 billion in app revenues for 2011. That would mean a 63.4 percent jump from the $1.78 billion the App Store brought in in 2010.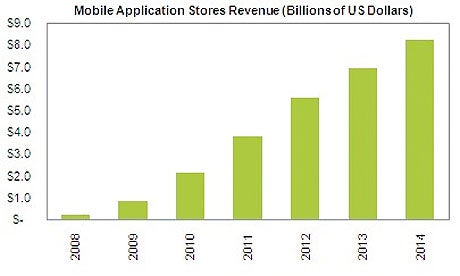 Perhaps the biggest loser in the report is RIM. BlackBerry's maker is expected to lose its second-place position to Android this year, despite growth in the apps market that actually outpaces Apple.
The overall app sales market, counting Apple, Google, Nokia and RIM, is predicted to grow 77.7 percent in 2011 to $3.8 billion. IHS expects that figure to more than double by 2014, to $8.3 billion. While its competitors, most notably Google, will gain ground on Apple over that timeframe, the research seems to show that Apple's huge headstart in mobile apps could keep it out in front for the foreseeable future.