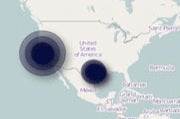 With the release of iOS 4.3.3, Apple fixes the location caching issue that sparked a controversy on mobile phone privacy last month.
As promised, iOS 4.3.3 reduces the amount of Wi-Fi hotspot and cell tower location data stored on the iPhone, and stops backing up this data to a synced computer. The cached information is now encrypted on the iPhone, and can be deleted by turning off Location Services in the phone's settings.
Researchers discovered the cached information in April, and published a PC application that showed a rough approximation of the user's whereabouts based on the iPhone's stored data. The information isn't terribly accurate because it relies on Wi-Fi hotspots and cell towers instead of GPS. Still, the cache could show whether the user was out of town or out of state–information that could be valuable to suspicious spouses or employers.
The Explanation
Apple later said that it was collecting anonymous data from these caches "with the goal of providing iPhone users an improved traffic service in the next couple of years." The fact that the phone stored hotspot and cell tower data over long periods of time, with no way to opt out, was a bug, Apple said. The latest iOS update provides an opt-out through the iPhone's Location Services setting, and reduces the history of cached data to seven days.
But as this story unfolded, a bigger conversation about cell phone location tracking took place. Apple insisted that it is not tracking users, and that iPhones are merely downloading information from nearby hotspots and cell towers. Google tracks users' locations, but uses an anonymous ID that's not associated with any other personal information. Microsoft also uses an anonymous ID to track users, while collecting hotspot and cell tower information for its location services.
Apple's response seemed to cool down the discussion, but in light of the controversy, Apple and Google both promised to testify at a Congressional hearing on user privacy this month.
Follow Jared on Facebook and Twitter for even more tech news and commentary.