Is ink cartridge refilling worth the hassle and risk? As PCWorld's Serial Refiller, I've been buying and using a variety of third-party inkjet cartridges and refill kits. So far none has matched the printer vendor's own cartridges in both output quality and ease of use, but most have provided enough of a savings to be worth considering–until now.
I'm writing up this episode with ink-stained fingers and a stack of shredder-worthy, ink-spotted pages by my side. The culprit is a refill kit that I found on Amazon, with the catchy name of "20 oz (600 ml) Jumbo HP Printer Ink Cartridge Refill Kit Color & Black." I bought my kit for about $15 from a vendor with the equally catchy moniker of "KT21568." A quick search online showed that the same kit is available from many other sources. It is a universal kit: "Works best with HP, EPSON, CANON, LEXMARK, BROTHER, OLIVETTI, XEROX, COMPAQ, IBM and others," claims the product information on Amazon.
Whatever it is, it taught me a lesson: Among ink-refill products, there is such a thing as too cheap. The first of these kits I tried was disastrous, and the second-chance kit was only slightly less so. Unlike with other ink products I've tested so far–remanufactured cartridges from Cartridge World and Office Depot, a 1-hour refill service from Costco, and a do-it-yourself refill kit from InkTec–I can't recommend this kit, at least not to anyone who uses an HP Photosmart e-All-in-One printer, as I do.
As with all my Serial Refiller adventures, my short-term experience with each of these products is anecdotal. I do not test the durability or archivability of third-party inks, nor how the printer fares after repeated use with them. Nevertheless, my ink refilling trials offer a taste of what you can expect if you try a third-party alternative with your own printer.
Cheapest Ink, Cheesiest Results
Product: 20 oz (600 ml) Jumbo HP Printer Ink Cartridge Refill Kit Color & Black Available through various vendors on Amazon and elsewhere Worth trying? No Hassle factor: High Print quality compared with OEM ink: Poor Yield (mixed set of samples): Not applicable Cost per page: Not applicable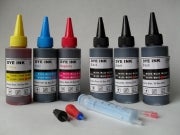 A Serial Refiller's goal is to save money on printing supplies. I decided to try the Jumbo refill kit because it provides an ocean of ink for just $15. The kit includes 300 milliliters of black ink (in three 100ml bottles)–that's 7.5 times the 40ml supplied in the other DIY kit I've tried, from InkTec. Use 10ml of black ink per refill, as per the instructions, and you'll get 30 black-ink refills per kit. Your ink cartridge will probably give up somewhere along the way, but you could always buy another cartridge to start refilling again. The kit is generous with color inks, too, supplying 100ml each of cyan, magenta, and yellow. InkTec provides just 25ml for each color.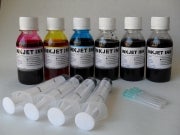 Because the first Jumbo refill kit I tried worked so badly, I bought a second kit just to make sure the first one wasn't a fluke. Interestingly, the first and second kits were slightly different. The quantity of ink was the same, but the second kit included four syringes and needles–one for each color–rather than the single syringe and needle that came with the first kit. The second kit also used different bottles.
With the first kit, I had to rinse the single syringe and needle thoroughly after refilling each color. The kit didn't come with refill instructions for my HP 60 cartridges, but it did provide a URL to an online version.
I started with the black cartridge; the first step was to peel off the top label, revealing the center hole where the ink goes. The tricolor tank has three holes.
I followed the vendor's instructions, which said to inject 10ml of black ink, and 6ml each of cyan, magenta, and yellow, into the cartridges. Big mistake! Ink overflowed from the holes, creating a considerable mess. Later, the syringe broke–not until I finished the refills, thank goodness.
After the refilling, a river of ink began seeping from the bottom of the cartridges, especially the black tank. Still following the instructions, I set the cartridges atop a pile of old rags and waited a couple of hours to give the ink time to saturate the internal sponges.
Next, I inserted the cartridges into the printer, ran a cleaning cycle, and began printing. Yikes! Big blotches of black ink appeared on the pages. The colors were wildly inaccurate, as well, possibly a result of the overflowing inks' seeping into other tanks.
The printer's LCD started posting error messages that I hadn't seen before, including 'At least one of the Cartridges has a problem' and 'Incompatible Print Cartridge'. I removed the black cartridge, and spotted signs of leakage inside the printer.
Okay, so the first test was an epic fail. But could the product really be that bad? I bought a second Jumbo refill kit from KT21568 and prepared to try it with a newly emptied set of HP 60 cartridges. As I mentioned earlier, the second set of bottles looked different–although the amount of ink was the same–and this time I got four syringes and needles, not one. Things were looking up.
But what about the ink-overflow problem? I began to question the vendor's refill instructions. Rather than inject 10ml of ink into the black cartridge, and 6ml into each of the tricolor cartridge's tanks, I decided to try InkTec's refill advice: Use 4ml of black, and 1ml of each color.
Injecting less ink seemed to prevent overflow the second time around, but the fun wasn't over yet. Once again, I set the cartridges atop old rags to sop up excess ink. After an hour, I noticed a large stain on the rag under the black cartridge. When I began printing, streaks showed right away in the text and images; the black tank appeared to be already low on ink.
Second Kit Marginally Better Than First Kit
After all that hassle, the results were not worth it. The first page shown here was printed with a new pair of HP 60 black and tricolor cartridges (click to view the full page).
Here's a page from the first kit.
And here's a page from the second kit.
Some Ink Refills Are Riskier Than Others
The Jumbo refill kit I tried for my printer was a dud twice over, with inconsistency all the way from the packaging to the final results. Because I didn't test the kit with other compatible cartridges and printers, I can't say how well the inks would work with them. But it's probably safe to say that a kit that works with that many printers probably won't work equally well with all of them. I checked user reviews on Amazon, and found that for most people who commented, the kit worked great; for some, however, it didn't work at all, and other users shared my problems with vague instructions and leaky product. One user stated that the kit worked great with their HP 60 cartridges–the same type as the ones I tried refilling–so at least one person had much better luck than I did.
I'm not suggesting that all do-it-yourself kits are bad. After all, my experience with the InkTec kit was positive. The lesson learned from this episode is that even if you do your homework–read online reviews, ask around–you might still get caught as I did, with the cheapest possible solution turning into the biggest possible problem.