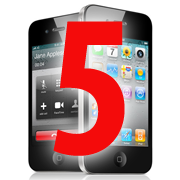 Apple will provide over-the-air updates for iOS 5, while the upcoming version of Mac OSX Lion will be delivered via the Mac App Store, according to two separate reports. Instead of having users chained to iTunes for their iOS updates, Apple may introduce wireless OS updates, removing the need for a computer in the process.
Apple is widely expected to introduce a new version of its mobile OS this year, and 9 To 5 Mac reports that one of the features will be over-the-air updates. Although iOS 5 will not come over-the-air itself, point updates will be delivered wirelessly, and Apple is reportedly in talks with Verizon about that. Because of intricacies with the wireless update system, Apple would have to reduce the size of iOS updates (which are bigger than 600MB) and also introduce a cloud-based backup system, independent of iTunes tethering.
Unlike Google, which updates Android wirelessly, Apple's current update system allowed the company to keep iOS users updated very fast. TechCrunch points to a good example: the iPhone location update, where all users are able to update within one week, while Android's 2.3 update is installed only on 4 percent of eligible devices after five months of availability. The slow update process on Android is mainly because of manufactures (which need to update their custom user interfaces first) and carriers, which need to deliver the updates wirelessly. It will be interesting to see whether carriers will bottleneck Apple's over-the-air iOS updates in the future, too.
In related news, Apple is also changing the way it delivers OS updates to Mac desktops and laptops, according to an AppleInsider report. Mac OSX Lion is set to arrive this summer, and unlike now, it won't come on a DVD (or USB drive in the case of the MacBook Air), the report says. The Mac App Store will be used instead to deliver the new OS, that's if you have Snow Leopard already. Currently, Apple is allowing developers to download pre-release builds of Lion via redemption codes in the Mac App Store, so a full-fledged deployment is likely. It is believed OSX Lion DVDs will still be around for those with slow connections.
Follow Daniel Ionescu and Today @ PCWorld on Twitter