You know those motivational posters you often see in offices, the ones with the signature black border and pithy sayings like, "Possibilities: Today the sidewalk, tomorrow the sky"? (You have to imagine a skateboarder catching some air in that one.)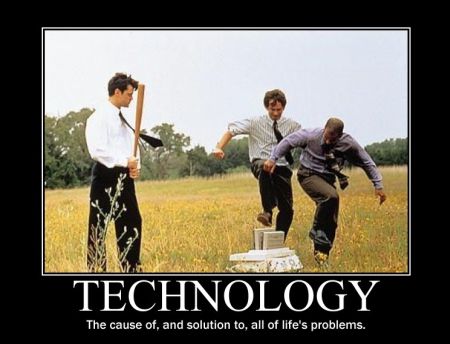 Big Huge Labs' Motivator lets you create your own motivational posters, using your photo, your tagline, and your "motivational" text. The possibilities are endless–and often hilarious. (I realize this doesn't solve a particular hassle, per se, but it seemed like a fun Friday diversion.)
To get started, just click the Browse button and find a photo you want to upload (opt for at least two megapixels for the best results). Alternately, click the Flickr or Facebook links to pull a photo from one of your respective accounts. Next, choose a cropping option (Center is usually the best way to go), an orientation, and a border. You can also choose colors for the title, text, and background.
Now enter a title, then whatever caption you want to appear below it. Click Create and you'll see the finished product. (Alas, Motivator lacks any kind of real-time preview, which can be a bit frustrating, but you can click Edit and make changes if needed.)
When you're satisfied with the poster, you can download it to your PC in JPEG format, share it via e-mail, Flickr, or Facebook, or add it to your shopping cart. Yep, Motivator lets you order prints of your poster, in sizes ranging from 8×10 to 20×24. Prices start at $11.95.
I love this thing! Give it a try, then send your best creations to me at the address below.
Contributing Editor Rick Broida writes about business and consumer technology. Ask for help with your PC hassles at hasslefree@pcworld.com, or try the treasure trove of helpful folks in the PC World Community Forums.